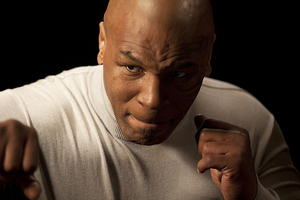 A Maori leader is standing by his support of Mike Tyson's visa application despite reviews that reveal the former boxer's one-man show includes jokes about domestic violence and verbal attacks on the woman he was convicted of raping.
Associate Immigration Minister Kate Wilkinson last week revoked Tyson's visa to New Zealand after it was revealed the Life Education Trust, which would have been a charitable beneficiary of Tyson's appearance, did not back his visit.
Maori leader and broadcaster Willie Jackson then stepped in to offer the Manukau Urban Maori Authority's support.
Ms Wilkinson's office yesterday confirmed it had received a new visa application for Tyson.
But questions are again being raised about whether Tyson should be allowed into the country.
Stop Demand, a group working to stop sexual violence, has urged Mr Jackson to withdraw his support, citing reviews of Tyson's one-man show on Broadway in August.
The reviews in Britain's Telegraph and Guardian newspapers said Tyson's monologue took aim at the 18-year-old woman he was convicted of raping in 1992.
He painted her as a villain, made her one of his "targets of contempt", questioned her credibility and told the audience he owed her no apology.
The Guardian's review said Tyson referred to women as "whores, bitches and tramps", including his victim, and joked about domestic violence against his ex-wife.
Stop Demand founder Denise Ritchie said the reviews revealed "relentless misogyny and trivialisation of rape and domestic violence".
But Mr Jackson, who wants Tyson to speak to disadvantaged youths in south Auckland, today stood by his support for Tyson's latest visa application.
"Broadway shows are quite different, I think, from messages to youths and to disaffected people," he said.
Mr Jackson would discuss with promoters what Tyson would say on his marae visit.
"If he comes, we do not expect him to be bringing his show to the marae."
Mr Jackson said there had been an "overwhelming response" from within the south Auckland community.
"I accept there's going to be criticism, but out on the street the community support is tremendous," he said.
"People who have had the most questionable backgrounds, they're the types that at times can make a major difference to some of our youth and disaffected people."
Tyson was to visit New Zealand on November 15 for a 20-hour visit, including performing his one-man show at Auckland's Vector Arena.
Tyson's promoter, Max Markson, today said any New Zealand appearance would be "a different show" to his Broadway act.
He expected Ms Wilkinson would "do what's right" in considering the application.
"His visit here will be both socially and culturally beneficial to the community. He will be raising money for charity and he will be setting an example and talking to some of the kids who were like him, on the streets. And he can inspire them to change their lives around."
Family First director Bob McCoskrie has called on the Government to deny a new visa application.
"The Government is right to cancel his visa, and they should ignore pleas from promoters of him coming to NZ who should have done their research better before trying to convince us that Tyson would be of benefit talking to at-risk young people."
Ms Wilkinson's office said the visa application had been passed to Immigration New Zealand officials, who would advise Ms Wilkinson before she made a decision.
She would not speculate last week on what decision she might make.
"Every situation is different with immigration matters, so I won't hypothesise."
Tyson was initially granted a visa despite serving three years of a six-year sentence for the 1992 rape. Anyone sentenced to five years or longer in prison is banned from visiting New Zealand.
- APNZ