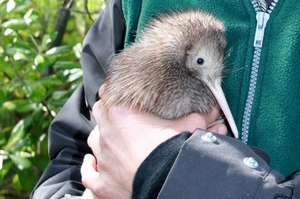 One of the kiwis born at Auckland Zoo at a release of four kiwi chicks into a sancturay on Motuora Island. Photo / Auckland Zoo
He's 26 days old, weighs 341 grams, and is "unusually active" and out on his own.
Kiwi chick Tae is part of a kiwi recovery programme in the Hauraki Gulf and was released into a sanctuary on Motuora Island on Friday. Tae was released as part of Auckland Zoo recovery programme after he and three other Kiwi chicks were incubated and hatched at the zoo as part of the BNZ Operation Nest programme.
A Maori name, Tae means layer of mist and he was named because of his lightish colouring.
Auckland Zoo staff say Tae was unusually active throughout the day - no matter what time keepers might have checked on him for daily weighing or giving fresh water or leaf litter.
The latest arrivals brings the total numbers of chicks released this season to seven. The total number released for the programme is 258.