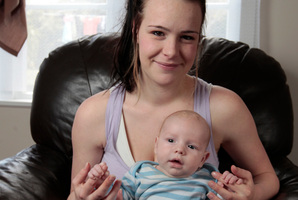 A young woman who avoided jail for an offending spree says motherhood has saved her from a life of crime.
Billie-May Graham, 18, pleaded guilty in March to owning a bull terrier, Munter, which attacked and seriously injured a man. She arrived at Waitakere District Court for sentencing this week with her 2-month-old son Ryder, and told the Herald on Sunday her baby had changed her life.
"I wouldn't have got out if I didn't have him."
Apart from facing the dog-attack charges, Graham was sentenced for burglary, theft, unlawfully taking a motor vehicle and intentionally ramming a vehicle. "When I have to add all these things together ... it becomes pretty high indeed," Judge Claire Ryan said in court this week.
But the judge said motherhood had transformed Graham and she was now a different person. Graham had also moved out of Glen Eden, West Auckland.
The court heard she sustained a brain injury last year, shortly before the offending, and was awaiting medical treatment for the injury.
Before sentencing Graham, Judge Ryan also took into account the young woman's age, guilty plea and a trouble-free few months. "After that huge offending spree, you've had close to 10 months (when) you haven't offended at all."
Judge Ryan said she did not want to imprison Graham. "That would be terrible for your child."
Graham was given 10 months' home detention. She must also pay $870 for the dog bite, $61 for a petrol theft and $250 for intentional damage of a car, relating to an incident when she intentionally drove into a Toyota Starlet.
Graham said she hadn't heard from the man her dog attacked last year but told the newspaper she was remorseful. "I'd like to say sorry to the guy who was bitten."
After her March court appearance, photos of Graham posing as a Nazi on her Facebook account were brought to a wider online audience by blogger Cameron Slater. Graham said that episode was behind her and she had no interest in Nazis.
"That was just me being young and stupid."
She will return to the court on January 11 to report her progress.
"This really is your last chance to sort your life out," Judge Ryan said. "But I might just be preaching to the converted."