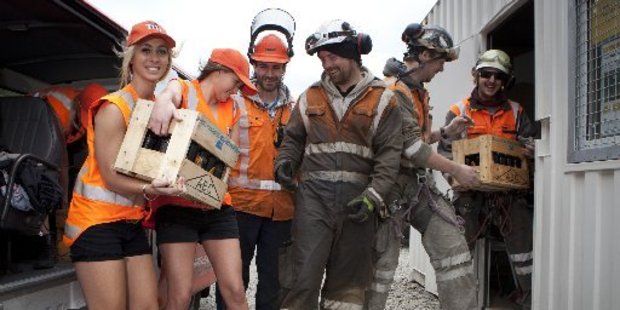 Stories making headlines across New Zealand at noon include a stolen barge, somebody scattering human ashes in people's faces and two "Tui Girls" make the news just for delivering some crates of beer.
Lesley Park was walking a public track on Mauao when she noticed someone scattering human ashes into the wind which were then blowing into the faces of people walking past.
Meanwhile police in Northland are on the lookout for a brazenly stolen barge.
Two "gorgeous girls" from the Tui Brewery in Mangatainoka who apparently don't want their last names known have delivered "refreshments" to gorge workers.
Brent Gibbs was standing in his lounge when he heard a loud revving noise and then a "horrendous sound."
Two guys showed up with a shotgun and knife, smashed mother of two Sarah Walker's front door window and asked 'Where's your f******* partner? I want my 10 grand' before a shot was fired. Then Constable Darrin Pavelka, Senior Constable Lyal Bayliss and police dog Brock arrived and took up the chase. "We jumped over the fence and saw the offender behind a hedge with a loaded single barrel shotgun pointing straight at us."
Two-year-old Sativa Eagle passed away this morning after a long battle with cancer.
September was wetter and colder than usual in Rotorua. It was drier and slightly warmer than usual in Wanganui. Hawke's Bay had a dry and sunny September while it was a mixed bag for North Otago.
Tama Turei Brown's had his third strike warning after robbing two men with a fillet knife.
What do you think of Mike Tyson's visit to NZ being cancelled?
Constable Campbell MacKinnon "saw a total of eight hard punches to the head, bang, bang, bang ... quite forcibly connecting fully, boom, boom."
This man withdrew funds from a bank account using stolen cards.
Triple medal winning cyclist Phillipa Gray is at home with her family in Turua.
Check out the big cactus that looks a bit like a Triffid.
As Christchurch demolishes its earthquake damaged heritage buildings, Gisborne's more cherished quake damaged heritage buildings are being restored.
The tobacco product display ban has apparently not had any effect on sales at all.
House hunters searching for a bargain are being warned to think twice before pinning their hopes on mortgagee sales.
Here's some tips for post-adolescent women to greatly reduce the appearance of cellulite.
Church bells rescued from the quake-crippled Christchurch Cathedral have been shipped to England.
Fishermen around Mid Canterbury are out in big numbers this week.
Clouds apparently remain over a mysterious injury that has prompted Opshop to cancel its Hits and Giggles tour, leaving Methven fans deflated.
The University of Otago spent over $68 million on travel in the four and a-half years to June.
Kimberley Jane Owen was learning to be a social worker while dealing methamphetamine and BZP on the side.
Jonnelle Dawn Watt's victim was an 82-year-old double amputee who suffered from variable memory loss.
Top trending topics on Twitter in NZ at noon probably include Mike Tyson but it is still broken. So today we look at top trending topics for the United States: #NationalBoyfriendDay, #HowToMakeMeMad, #DontTouchMy, #SometimesWeJustGotta, 106&Park, #ReasonsWeCantBeTogether, Sean Paul, Don't Panic, Resident Evil 6 and Mohawk.

-Herald online