Gentlemen or dinosaurs? Debate rages over civil gestures by men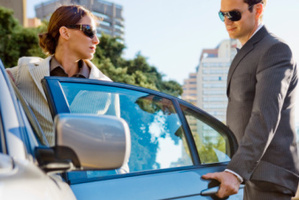 On a crowded bus into Auckland an elderly man gets off his seat and staggers down the aisle to offer one of the two women standing his seat.
Earphones plugged in, the young woman responds with little more than a confused shake of the head.
Realising his gesture is unwanted, the grey-haired man returns to his seat, eyes downcast.
Is chivalry so scarce women no longer recognise it, or has feminism simply rendered women unwilling to take part in the practice many say is outdated?
Derived from the French "chevalier" for horseman, chivalry was originally linked to the code of behaviour associated with knighthood.
Now it means that men behaving politely towards women - rising when a woman enters the room, assisting with chairs, opening doors and carrying packages - has largely become a thing of the past.
Men do not behave like gentlemen any more, some women complain. Yet those who do also face being labelled a dinosaur for their actions.
Feminists see chivalry as "a kind of mask for deep inequality", says University of Auckland women's studies professor Maureen Molloy.
The declining tradition, in which men showed masculinity in their relationships, is a good thing, she says.
"I'd rather open my own doors and have a decent job and be able to be in control of my own bank account and take out a loan in my own name and have a driver's licence and be able to own a mortgage. I just think that chivalry in the sense it was used in the 20th century was a sham," Professor Molloy says.
While good manners are necessary, traditions that "stand in for real equality" are not, she says.
To some, the offence comes from historic ideas about women being the weaker sex and needing to be looked after by men - a protection of women that isn't necessary in the modern world, says feminist blogger Julie Fairey.
"Things like the men always pay because the women don't have any money of their own.
"It wasn't that long ago in New Zealand that women couldn't open a bank account, so for my parents' generation, some of that stuff was practical reality, whereas now I think that's one of those things that's sort of waning."
Good manners deemed by some as chivalrous, such as opening a door for someone less capable, were not bound by gender, Ms Fairey said.
"I've stood up for elderly men ... to have a seat on the bus, and with my colleagues often it's a battle for who can open the door for who."
If both people are capable of opening the door, why should the man always have to open it, she asks.
While not taking offence at the gesture, she likes to return the favour by opening the door for them another time: "Just to sort of even things up because otherwise it feels a little bit like you're not equal".
Single Aucklander David, 41, said modern-day "chivalry" is a balancing act - walking the line between gentlemanly behaviour and not offending modern, independent women.
"If someone opens a door for you, you say thank you. I don't think it's a chauvinistic thing to be chivalrous or to open a door."
Is chivalry outdated?
Tell us your experiences newsdesk@nzherald.co.nz
- APNZ