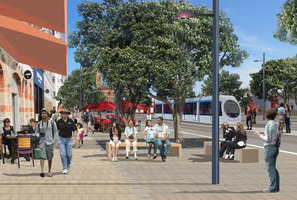 Quay St will become a pedestrian-friendly boulevard within three years, says Waterfront Auckland.
"It will be stunning, and in line with the mayor's vision of Quay St as one of the keys to the city's transformational thinking," said general manager of development Rod Marler.
"This will be in the next three years, initially down to Captain Cook Wharf, and further once we've got clarity around the Ports' plans."
Auckland Council's environmental strategy and policy-planning manager, Ludo Campbell-Reid, said the waterfront road was critical for making the area more attractive.
"It's the face of the city in many respects. Quay St is a place of arrivals and departures, like an airport, an arrival hall for Aucklanders and visitors and people who want to do business.
"It has not been a great experience for many years, and the key problem has been Quay St. It's been used as an arterial road, which severed the waterfront from the heart of the city, and people are struggling to access that space."
The speed of cars and trucks on the road was the major issue, he said.
"You wouldn't design anything around just Christmas Day shopping, for example, but Quay St acts as a road to serve the capacity of the congestion traffic - and then the entire rest of the day it's quiet. But because it's quiet, people can drive quite quickly. It's not the vehicle numbers but the speed of traffic is too high, and crossing points are too far apart."
The situation was the result of poor transport planning in the past.
"Auckland doesn't have a congestion problem; we have a design and planning problem, whereby the transport design over many, many decades has tended to design for private vehicles and rush-hour traffic."
Improvements could see more crossing points, a wider footpath taking in a traffic lane or two, and opening up parts of the red fence to allow access down to the water.
Momentum was growing for a world-class public waterfront, and a boulevard bringing together the wharves and waterfront precincts was needed, Mr Campbell-Reid said.
"The touchpaper has been lit with North Wharf and Jellicoe St and Wynyard Quarter. Quay St becomes the next piece of the puzzle.
"You really realise that with Quay St, it's either going to be a severer of that opportunity or a glue that brings the waterfront together from Tamaki Drive onward."
The project will be undertaken in three stages: first from Viaduct to Britomart, then extending to Countdown, and finally a grand plan to connect all of the waterfront, including the stretches of Tamaki Drive.
It will have to be co-ordinated with transport projects around the city. Commuters from the eastern suburbs need better options than to drive down Quay St. This could mean ferries from Kohimarama, Mission Bay and other suburbs.
And the inner-city rail loop was vital to improve services, Mr Campbell-Reid said. But the construction of the rail loop's tunnels would close down Customs St for some time, meaning the first phase of Quay St's redevelopment needed to happen before then.
"Within three years, before 2016, you will see a part one - a visible, physical change down on Quay St. We're now modelling what it would look like, how much that would cost."