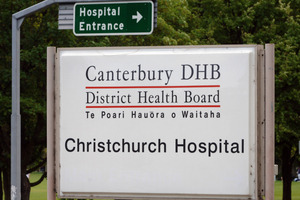 A fit and active 21-year-old man who died inexplicably a day after brain surgery received below standard medical care from staff at the Canterbury District Health Board, the Health and Disability Commissioner has found.
The man, whose name has been suppressed, suffered from frequent headaches and was diagnosed with a brain malformation in 2008.
He was admitted to hospital in early 2009 for elective surgery to remove pressure on his brain.
Before the surgery he met a trainee neurosurgeon to discuss the procedure and give consent. Later that day he met the consultant neurosurgeon and, after further discussion, decided to go ahead with the surgery.
At first the man's recovery progressed as expected. He was checked hourly for the first 12 hours after the operation, then two-hourly. However, his respiratory rate was not recorded after 5pm on the day of the surgery.
About 7am the next day the overnight nurse left and reported no concerns, but half an hour later the man was found unresponsive and could not be resuscitated.
A pathologist was not able to find the cause of death. There was no evidence of surgical mishap, pulmonary embolism, excessive morphine or pre-existing cardiac disease, Health and Disability Commissioner Anthony Hill said.
He found that the DHB did not provide services of an appropriate standard for the man because of "sub-optimal processes and practices in the neurosurgical unit".
Mr Hill's concerns included a conflict between post-operative monitoring instructions and ward protocol, a failure to check or document the patient's respiratory rate, and that close observation of him stopped while overnight nursing staff handed over to day staff.
"These compromised the ability of staff to provide an appropriate standard of care, and CDHB must bear responsibility for them," Mr Hill said.
However, findings of individual breaches were not warranted, he said.
Mr Hill's recommendations included that the DHB identify factors that might have contributed to the man's death and make changes so they did not recur. The DHB was also recommended to write an apology to the man's family. APNZ
- APNZ