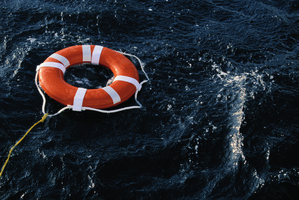 It is proving to be an "exceptionally bad" year for the south, as tragedy after tragedy occurs on the water, Bluff Fishermen's Shore Station Radio owner and operator Meri Leask says.
In the latest incident, skipper Kevin Cosgrove (60), of Dobson, and crewman Nirvana Drew Reynolds (16), of Blackball, are missing along with their fishing boat the Governor off the Fiordland coast.
They were last heard from about 11.30am on Saturday, when their net reportedly snagged while trawling.
The incident was the latest in a long list of recent boating tragedies, Mrs Leask said.
"I've been doing this job for 34 years and I've never known so much tragedy in such a short time. It's been a very difficult year for a lot of people," she said.
Both missing men were reportedly based in Greymouth, although the Otago Daily Times understands the skipper was originally from Bluff, where members of his close family remained.
Mrs Leask said it was another blow for the town.
"It's just been a shocking year. In this area we seem to have had an awful lot happen," she said.
The missing teenager had lived in Oamaru and attended secondary school in the town before moving with family to the West Coast a few years ago, the ODT was told last night.
Extensive search and rescue operations yesterday failed to discover any further sign of the men or the boat, missing from Yates Point, north of the Milford Sound mouth.
About 5pm on Saturday, a fishing vessel came across a fuel slick near the mouth, and about 90 minutes later, an empty inflated life raft was located drifting about 12km southwest of the oil slick.
A life ring and some other items were also found before the search stopped about 8.30pm on Saturday due to weather conditions.
Yesterday, a larger search and rescue operation included at least five fishing vessels as well as helicopter and aeroplane crews.
A search and rescue team in a Southern Lakes Helicopter located a debris trail in the tide line about 3pm, about 36km south west of Yates Point.
It started about 9km from shore and spread slightly north of George Sound.
The fishing vessel Amazon worked through the debris until dusk last night, to see if there was anything of interest within, but they only found fish bins and pieces of wood.
Senior Sergeant Cynthia Fairley said the search would be scaled down to a limited search today.
"At this stage, the SAR management team at Invercargill and Te Anau are discussing the viability of using the Police dive squad to locate the wreckage, but this may be 40m deep.
"They will be considering the location, depth, tidal movements and the weather," she said.