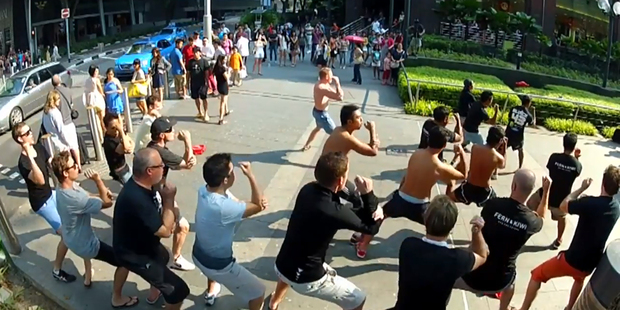 Performing the haka publicly in Singapore has landed a Kiwi restaurant in trouble with the police, barely a week after it opened in the city's upmarket waterfront dining belt on Clarke Quay.
Staff of Fern & Kiwi Eatery, an offshoot of the Lone Star restaurant chain, were questioned by police after they performed a flash-mob haka on Singapore's Orchard Rd, the city's busiest shopping street, three days before the restaurant opened on September 5.
Police would not provide details as investigations were ongoing, Singapore media reported.
In Singapore, any public performances, including flash-mobs, require a public entertainment licence, which the restaurant did not have.
A video of the performance was posted online on websites such as YouTube.
The participants, some without shirts, were shown breaking into the haka as shoppers watched and filmed.
The performance lasted about a minute, and the 20 staff were joined by some passersby.
Fern & Kiwi could face fines of up to $10,000 under Singapore's strict legislation governing public entertainment.
The restaurant could not be reached for comment yesterday and did not return the Herald's calls.
But Fern & Kiwi director Simon Dunlop has apologised for the "misunderstandings" in an interview with My Paper, a Singapore bilingual daily. "We admit we were not clear on local regulations on haka-style performances, and are sincerely sorry for any offence caused," the paper quoted Mr Dunlop as saying.
Fern & Kiwi is the chain's first restaurant and bar to be established outside New Zealand, serving food, wines and beers similar to those at the Lone Star restaurants here.