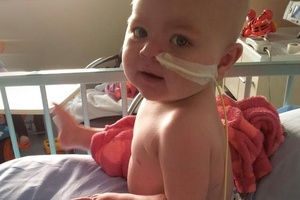 Almost two weeks ago Sativa Eagle celebrated her second birthday with her twin sister Indee.
Now her parents are preparing to say goodbye to their brave little battler.
Sativa, who was diagnosed with acute lymphoblastic leukaemia when she was 4 months old, has been given just weeks to live.
Her parents, Sheree Roose, 25, and Tim Eagle, 28, have now taken Sativa, who has spent more of her life in hospital than out, home to die.
"At the moment we want to enjoy her and be together," Ms Roose said. "We are just taking it one day at a time."
Three months ago Sativa had a bone marrow transplant with the hope it would cure her.
Following the transplant her hair grew back, she took her first steps and tasted food for the first time.
With a functioning immune system, the family was able to get out and about and do "normal stuff" like going to the park and the beach.
Mr Eagle went back to work and Indee started kindy.
But three weeks ago a routine blood test revealed Sativa's cancer was returning at an alarming rate.
She returned to Auckland's Starship Children's Hospital to have more bone marrow injected into her body in the hope of pushing out her cancerous cells, but it had just a 10 per cent chance of working.
Earlier this week, Ms Roose took Sativa to hospital with what she hoped was just a cold.
"The doctor came in and sat me down. He said the cancer was much worse than before ... he said, 'I'm sorry, she's dying'."
When Ms Roose asked how long they had left with Sativa, the doctor was reluctant to put a timeframe on it, but told her he thought it was weeks rather than days.
Despite having nearly lost her several times before, Ms Roose said it came as a huge shock.
"I always knew she was going to make it. We were never going to lose her. She has had many a miracle between then and now. She has fought harder than anyone I've ever met."
The parents now hope to manage Sativa's pain at home.
"We want to avoid hospital. We want to be at home together," Ms Roose said.
They have told the girls' 4-year-old brother Bailey that Sativa is very sick and "may not be here anymore".
"I said Sativa might be going to live with Granddad in heaven. It's the only thing I can do to help him understand what's happening."
Indee is too young to grasp much of what is going on but treats Sativa with a tenderness beyond her years.
"Indee treats Sativa like her little sister. She will bring her her dummy and blankie all the time and give her kisses and cuddles and pats her on the head."
Ms Roose said she struggled to understand why this was happening.
"I'm angry every day because I just don't get it. I don't understand why and I will never understand why. Why a child? Why give her to us and have her suffer most of her life to have her suffer and die? I don't understand. It's cruel.
"If there is a God, he's given us all this time to fall in love with her ... there's so much more we could have given her. I am angry. I hate cancer."
What kept her going was pure and simple - a mother's love.
"Any good mother would fight to the end."
For more articles from this region, go to Bay of Plenty Times