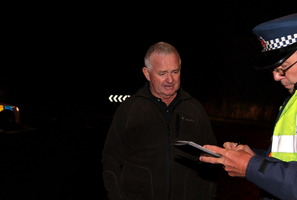 A well-known Hawke's Bay barrister has been charged after an accident in which he and Sensible Sentencing Trust spokesman Garth McVicar's vehicles collided.
Nigel Hewat faces a charge of careless use of a motor vehicle after the July 26 crash.
Both Mr McVicar and the lawyer escaped injury in the accident which badly damaged the vehicles they were driving and brought down power lines on Napier Rd.
Mr McVicar, of Te Pohue, was driving the trust's sponsored Hyundai on Napier Rd on his way to a meeting with supporters in Havelock North when the crash happened just before 5.30pm.
After the collision, at the intersection with Mill Rd, it is alleged Mr Hewat's car spun on the wet surface and crashed through a pole which brought down power lines in the path of a third vehicle.
The lawyer has also since been charged with failing to stop to ascertain injury, after allegedly attempting to leave the scene on foot.
Mr Hewat, who appears regularly as a defence lawyer in Hawke's Bay courts, acted as Jules Mikus' defence counsel during the 2002 High Court trial for the 1987 rape and murder of Napier schoolgirl Teresa Cormack.
He is due to appear in Hastings District Court next month.
For more articles from this region, go to Hawkes Bay Today