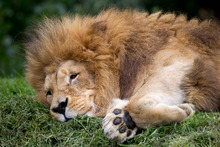 Auckland Zoo's male lion Lazarus will leave his home today and head across the Tasman.
The 200kg cat, who has fathered six offspring, is part of an Australasian regional breeding programme and his departure will make way for the zoo's other male lion, Ngala, to lead the pride of three females, and hopefully breed.
Lazarus will be air-freighted in a special custom-built steel crate and from Sydney airport it will be a six-hour road trip to Taronga Western Plains Zoo in Dubbo, New South Wales.
He will be accompanied by one of his keepers, David Crimp, who will spend a week helping to get him settled.
Lazarus and Ngala, both 10 years old, have been at Auckland Zoo since 2003, when they arrived from South Africa.