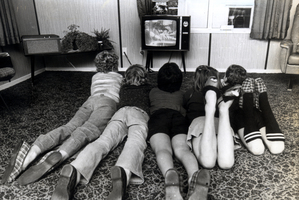 Grandmother Nevis Stanaway of Cambridge used to read a book to her grandchildren about a rocket going to the moon.
"I used to tell them, 'Your grandchildren will probably take you to the moon,"' she says.
"But I've actually stopped saying that because I don't know whether they will.
"Technology has really changed in 50 years, but what else has really changed?" asks the 64-year-old teacher aide, who lives with her husband in a workers' cottage at the Cambridge Stud.
"I think: what will happen to my grandchildren? To their children? It actually worries me. I don't want to think that far ahead because I don't know whether I'll like what I will see."
Today's grandparents were born in what seems now like a golden age. Fascism was defeated, replaced by the welfare state. Wool prices were at record highs. The online encyclopaedia Te Ara records that the national tally of unemployed in Nevis Stanaway's first seven years from 1948 to 1955 never exceeded 100.
But that is not the country that her six grandchildren, now aged 2 to 8, will inherit. She is not the only worried grandparent.
In Christchurch, Trisha-Rose Tirase, 60, would really prefer to have stayed in the warmer climate of Australia but came home to be near her two children and five grandchildren. She is horrified at the slow response to the earthquakes and feels that her homeland is a worse place than she left.
"There's more crime, more suicides," she says. "As kids, we used to disappear all day to go playing, and only came back for meal times, and always felt safe.
"They can't do that anymore."
Christchurch grandfather George Nicholson, 77, says too many people "aren't working and just wanting handouts".
"Good manners and discipline are important to me, something that the young ones today are lacking," he says. "Parents can't smack their kids and teachers can't touch them, so they get away with murder."
Cambridge school secretary Sandra Hazelton, 60, also worries that children "are not learning the little things - manners, how to keep themselves clean, what is right to eat, how to help around a household".
"Sitting at the dinner table to have a meal as a family doesn't exist because Dad is still at work or Mum is not home," she says.
"Is it a necessity for them both to work? Or is it that they want the lifestyle?"
Ms Hazelton says family values were important in her time.
"You had the family benefit, something to keep a parent at home for those first five or six years of a child's life just instilling important family values."
These days, she says, those values have been lost and screen time on TV and computer games has become a babysitter for some children.
"It takes the place of conversation and they come to school and to communicate is not easy because they haven't had that."
Snapshot: New Zealanders aged 60 to 79
European 86%
European-Maori 1.3%
Maori 4.7%
Asian 3.7%
Pacific 2.4%
Other/mixtures 1.8%
Where we are:
New Zealand 88.3%
Australia 9.8%
Rest of world 1.9%
Source: Statistics NZ
The question
Who are we?
What does it mean to be a New Zealander in today's interconnected world?
The context:
This week's changes in the New Zealand Herald are the biggest in our 149-year history and respond to equally momentous changes in our population and society that question our national identity.
The methods:
A DigiPoll survey of 750 New Zealanders plus in-depth interviews with 91 people in New Zealand and 16 NZ-born people in Australia, including similar numbers in five 20-year age bands. The NZ interviews were arranged with the help of primary schools spanning the socio-economic decile range in north and west Auckland, Cambridge, Rotorua and Christchurch. In addition, historians at the online encyclopaedia Te Ara selected 30 key events that helped to shape our identity over the past 100 years.
The team:
Greg Ansley, Kurt Bayer, Simon Collins, Yvonne Tahana, Lincoln Tan, Vaimoana Tapaleao.
The series
Yesterday: Pioneer stock - Aged 80-plus
Today: War babies - Aged 60-79
Tomorrow: Opening up - Aged 40-59
Thursday: Children of Rogernomics - Aged 20-39
Friday: Sport unites the nation - Aged under 20.