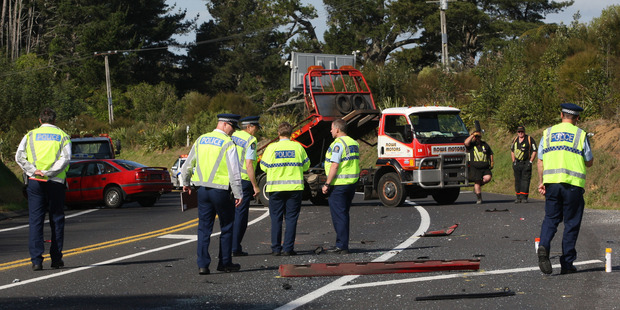 A car involved in a fatal Bay of Plenty crash matched descriptions of a vehicle being driven erratically just minutes before the collision, police say.
A 55-year-old Katikati man, named by police this morning as Christopher David Harvey, was killed when the car he was driving crossed double yellow lines on State Highway 2 and crashed into an oncoming Holden Commodore, near at Te Puna yesterday.
He was the sole occupant.
Police say the man's car matched the description given to police about a vehicle being driven erratically in the Whakamarama area moments before the 12.15pm crash.
A 7-year-old girl and her 15-year-old sister were among the four occupants inside the Commodore, which was extensively damaged.
Both girls were taken to Tauranga Hospital with moderate to minor injuries.
The girls had been travelling with two family members who were not believed to be badly injured.
Police wanted to hear from anyone who saw the man's red vehicle, described as an older model Mazda.
Western Bay of Plenty area commander Inspector Clifford Paxton said police had received reports of a vehicle crossing the centre line.
The Serious Crash Unit was investigating.
The section of SH2 was closed for about three hours.
The area is a known black spot, with three white crosses visible at the side of the road, just metres from yesterday's crash scene.
For more articles from this region, go to Bay of Plenty Times