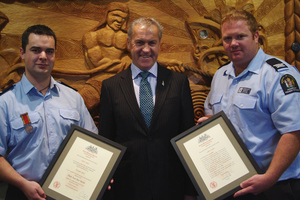 Dean Kaire (left) and Phil Boughey with minister David Carter (centre). Photo / Supplied
Two fishery officers who rescued a boy from drowning have been officially recognised for their courage.
Dean Kaire and Phil Boughey each received Royal Humane Society bravery awards yesterday, acknowledging their quick thinking which saved a 9-year-old boy from drowning at Bucklands Beach in Auckland in October last year.
The two men who, like all honorary fishery officers, are unpaid volunteers, were presented with the awards by Primary Industries Minister David Carter at a ceremony in Avondale.
Mr Kaire was awarded the Royal Humane Society Bronze Medal and Mr Boughey a Royal Humane Society Commendation.
During the presentation, Mr Carter commended the selfless actions of the pair.
"With little regard for their own safety the two HFOs immediately tried to save the young boy. Had it not been for their courageous actions, the consequences could have been tragic."
At the time of the rescue, Mr Kaire and Mr Boughey had just finished conducting routine checks at nearby Halfmoon Bay, and it was only by chance they had stopped at Bucklands Beach to give some fishermen stickers they had asked for.
While they were parked, they heard screaming and were alerted to a young boy who had been dragged about 25m offshore.
"I jumped out of the truck and quickly went along the beach and there was a 9-year-old caught in a current just offshore," Mr Kaire said at the time.
Mr Kaire ripped off his stab-proof vest and swam through the swiftly moving current in his overalls and boots to reach the boy.
While he brought the boy in, Mr Boughey called for an ambulance and then helped his colleague to bring the boy back to land.
Yesterday, Mr Carter said he wanted to thank all fishery officers for giving their free time to a valued job in New Zealand communities.