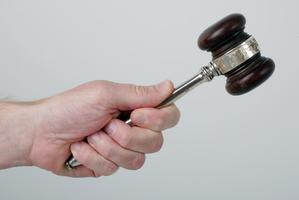 Photo / File
New Zealand's longest-serving prisoner has been denied parole and will not be considered for early release again until 2015.
But the Parole Board has encouraged the Department of Corrections to let recidivist paedophile Alfred Thomas Vincent, 74, have "suitably escorted outings" from prison.
The Christchurch man was one of the first people to be sentenced to preventive detention after he was convicted in 1968 of performing indecencies on five boys aged 12-14, including brothers, over about a year.
He is now in his 45th year in prison.
He first became eligible for parole 37 years ago, and has been refused each time. The only time Vincent has spent outside prison was during day passes and weekend leaves in the early 80s - which were revoked when he was caught talking to young boys.
Thomas was last refused parole in 2009. Usually inmates eligible for parole see the board every 12 months, unless a postponement order is made - which is what happened with Vincent's case three years ago.
He appeared before the board again on August 31 and it was suggested that if he were released, the Salvation Army might be able to "safely accommodate" him in new premises yet to be opened.
However, board convener Justice Marion Frater said a viable release proposal had not been presented supporting this.
"Any accommodation available through the Salvation Army is necessarily of a short-term nature. Given Mr Vincent's age and his consistently assessed high risk of reoffending, it would be inadequate to safely manage his risk," she said in her decision released publicly yesterday.
She said Vincent had not sought parole this time around, and was realistic about a new postponement order being made given the "lack of a release proposal" and his "ongoing risk".
"In the circumstances, parole is declined. A postponement order is made for three years from today which means that Mr Vincent will next appear before the extended board in or about August 2015. He has of course the right to apply to be seen earlier than that if there is a significant change in his circumstances.
"Notwithstanding that we have made the postponement order, we would hope that this does not mean that all avenues for temporary releases [for] Mr Vincent are closed. We see a utility, on humanitarian grounds at least, for him to be given the opportunity to participate in suitably escorted outings from time to time."