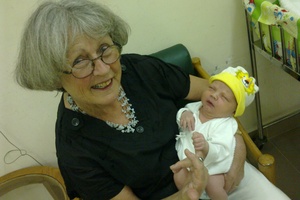 Baby Carter Preston, seriously injured when his grandmother suffered a fatal fall down a stairwell in Vietnam while carrying him, is feeding well and expected to be home soon, his family says.
Julie Ferne, 68, died after toppling over a railing and falling three storeys with Carter in her arms at her son's home in Ho Chi Minh City, Vietnam, last month.
Carter's uncle, Stefan Preston, shared a message from Carter's parents, Phil Preston and Chau Nguyen, on Facebook which said the infant's condition had improved.
He had opened both of his eyes, which were "large and focused", and was feeding well from the bottle, it said.
"I cannot explain the feeling and relief that is edging closer everyday. Our son will come home soon.
"To everyone that has sent their thoughts and good wishes, those that have prayed and sent energy, thank you from the bottom of our hearts. It has made this entire journey a lot easier and we now have a result that promises to be a best case scenario."
Mrs Ferne is thought to have shielded Carter from the worst of the impact during the fall.
"I don't know how you did it Mum but thank you, we will never forget what you did," the message said.
Carter would probably be out of intensive care this week. Mrs Ferne's funeral was due to be held in Auckland next week.
- APNZ