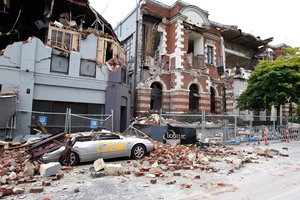 Two years on from the first Canterbury earthquake, half of Christchurch's earthquake-damaged homeowners are unhappy with the performance of the Earthquake Commission and private insurers.
At 4.35am, September 4, 2010, a 7.1 earthquake struck Darfield, causing massive damaging across the region, but fortunately no fatalities.
Since then, thousands of quakes have rattled the region, the most damaging a magnitude 6.3 on February 22 last year, which claimed 185 lives.
Over the past two years, EQC has undertaken inspections at 461,081 properties across the region, however thousands of homeowners are unhappy with the pay-out process.
On Saturday, 300 Canterbury residents protested the lack of action by the authorities and insurance companies in an empty lot near Christchurch City Council Headquarters, while the Quake Outcasts, a group of red-zoned homeowners, will today present a petition to Labour MP Lianne Dalziel highlighting concerns over property rights.
A Christchurch Press-commissioned survey found 50 per cent of owners of earthquake damaged homes are not pleased with the EQC's performance, with half of those either "very" or "extremely" dissatisfied with the EQC.
Only 29 per cent responded they were "very" or "extremely" satisfied.
EQC Canterbury events manager Reid Stiven acknowledged poor communication was the commission's biggest issue.

"We've acknowledged from day one that . . . our ability to communicate and get information out to our customers was poor," Mr Stiven told the Press. "Absolutely we've made some mistakes, but we don't sit on our hands."
Mayor Bob Parker told TV3's Firstline the issues appear to be at the "interface" of EQC and the private insurances companies.
"We are encouraging those organisations to solve those problems," he said.
Meanwhile the EQC is to prioritise repairs so that the sick and elderly in Christchurch are seen to more quickly.
The commission has seconded a person from another government agency to formalise a policy to prioritise repairs for those who are chronically ill or over a certain age.
Mr Stiven told Newstalk ZB that person will collate data from a welfare agency and compare it with that collected by EQC.
"Now what we're going to do is through the feature programme, ensure that 100 of those people have their homes repaired every month."
Mr Stiven would not reveal the age of eligibility they are looking at until the process is formalised.
- Herald Online, Newstalk ZB