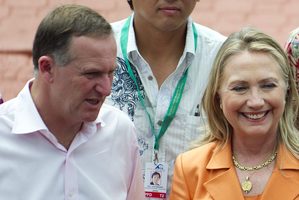 Hillary Clinton says New Zealand soldiers have made "extraordinary sacrifices" for the war in Afghanistan, but was convinced it was worth it for the progress that was made including by New Zealand's team in Bamiyan.
The US Secretary of State met with Prime Minister John Key at the Pacific Islands Forum in Rarotonga yesterday, where Key told her New Zealand now intended to withdraw from Afghanistan in April 2013 - a few months earlier than originally intended.
In the past month, New Zealand and Australia have each lost five soldiers in the conflict with the Taleban - their greatest losses in battle since the Vietnam War.
Clinton said the US was "deeply grateful" for the countries' contributions to the International Security Assistance Force, and sorry for the recent losses of the soldiers.
However, she said, it was important to remember progress had been made.
She pointed to Bamiyan, where the involvement of New Zealand's Provincial Reconstruction Team had led to great improvements in health, education and infrastructure. "So we are committed to seeing this through because we can not afford to see Afghanistan turn back into a haven for terrorism that threatens us all."
Clinton was glowing about New Zealand's contribution, saying its forces were "highly regarded" and had played a critical role.
"New Zealand's contributions are far beyond what one would normally expect of a country the size of New Zealand."
There has been scepticism about whether the Afghan security forces will be ready to take over when the International Security Allied Forces begin to withdraw next year - but Ms Clinton said the progress they had made was "more a positive story than a negative story."
New Zealand's role in Afghanistan has contributed to the warming of the relationship between New Zealand and the United States over the past decade - it was the first thing Ms Clinton listed when talking about areas of cooperation between the two countries.
Yesterday, Clinton rewarded that effort at a political level, saying Key's leadership had "revitalised" the relationship between the two countries. The US felt "a special kinship, a closeness to New Zealand and the people and we continue to look for our relationship to go from strength to strength."
Key said he had promised New Zealand would stick to its commitment to ISAF - but would "certainly" withdraw in April next year.
The withdrawal, at least a year earlier than Australia and the US, had not disappointed her because ISAF had made it clear they did not want everybody leaving on the same day. "We are on the homeward leg now."
The pair will meet up again in just over a week at the Apec Summit in Russia.