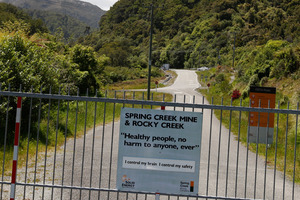 Spring Creek Mine was recruiting new staff as recently as three weeks ago, despite Solid Energy warning two months ago that things were turning sour.
The future of the Greymouth mine is under review, and the pit is currently being run by a skeleton crew until a decision is made.
On June 13, Solid Energy chairman John Palmer warned business leaders in Greymouth that the next 21 months looked "extremely challenging", and it would be naive to think the struggling European economy would not impact here.
"It's having an effect on our core business."
But Engineering, Printing and Manufacturing Union organiser Garth Elliott said the company was still recruiting for Spring Creek as recently as three weeks ago.
"I believe there has been a mixed message between the company communicating what the intention was, and Spring Creek carrying on as per usual."
The situation was "hard and frustrating".
Mr Elliott said he believed some miners would immediately look for work in Australia rather than wait for Spring Creek to make a decision.
"It will cross people's minds, to try to create some certainty for themselves. They need to support their family."
It is understood some miners who arrived in the country on working visas have worked at the mine for a year, but need to have worked two years to qualify for New Zealand residency.
"They came over with the promise from Solid Energy of a prosperous career in New Zealand," a source said.
Since the Solid Energy bombshell dropped on Wednesday, dozens of Spring Creek miners have received texts and messages from friends and other ex-West Coast miners in Australia, offering to help them find work in the mines there.
Solid Energy chief executive Don Elder said today Australian recruitment companies were in the country "every day".
He also said coal prices unexpectedly "fell off a cliff" in July.
Meanwhile, Solid Energy has dismissed speculation the miners may return to work on Monday.
Some miners had done a risk assessment, the union said yesterday, and hoped to return to work. But a company spokeswoman said there would be no further work carried out underground at Spring Creek, except for critical safety work, until the company had completed its review on the future of the mine.