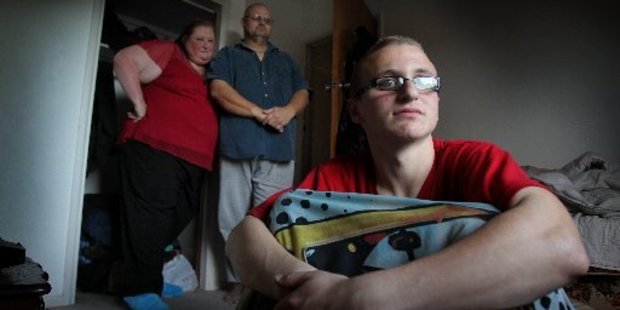 The parents of a troubled Tauranga teenager say his violent outbursts have them fearing for their lives and they need extra help before he kills someone.
Belinda Sullivan needed hospital treatment for cuts after her 14-year-old son Ashley smashed a glass door at their home. Ashley also needed treatment.
She and husband Ivan said Ashley had become so violent they have had to take him to the police station at least five times.
"They can arrest him and put him in the cells - but that's not what he needs," Ms Sullivan told the Bay of Plenty Times.
At home, Ashley demands most of his parents' attention - leaving little time for their 16 and 19-year-old daughters. The Otumoetai College student has Asperger's syndrome, ADHD, epilepsy, a global developmental delay of seven years, intellectual disabilities and post-traumatic stress syndrome from being in the two largest Christchurch earthquakes.
He has the mental age of a 7-year-old, struggles to interact with people in normal social situations and has trouble controlling his anger.
The couple said their son could be a good child but his daily "meltdowns", which included physical violence, took their toll. "We're crying out for help," Ms Sullivan said. "He's been physically and verbally abusive to us. It's not only me and my husband, it's my other two children.
"He's nearly 6ft and he's really strong. I'm scared he's going to do something to us. I don't think he knows how hard he hits us," Ms Sullivan said.
"It's really been hard for us. We're crying out for help because we know we could do something to him or he could do something to us."
Mr Sullivan said they were doing as much as they could to look after Ashley but needed more support.
"I'm really, really scared that he might be another statistic that's going to kill someone or end up being killed," he said.
The Sullivans have done parenting and behavioural courses and have taken part in a family meeting run by the Youth Justice branch of Child Youth and Family (CYF).
Ashley is regularly monitored by the Bay of Plenty District Health Board's child and adolescent mental health services and goes to an Open Home Foundation home for one weekend each month.
Ideally the family would like more respite care for Ashley to give them time to recover and provide a better environment for him when he is at home, Ms Sullivan said.
It would not diminish his violence but give the family the rest they needed to deal with it and look for other solutions, she said.
Ms Sullivan has considered having Ashley put into the care of a community home but does not want to abandon her son.
"I love him so much and so dearly but things could be different. He could be getting the support that he needs."
Bay of Plenty District Health Board chief operating officer Phillip Balmer said a review of Ashley's treatment found he was receiving medical care, carer support and respite care through the health board.
"The DHB is continuing to work with the family to ensure that they understand what services are being provided and why, and to ensure that the child's welfare and impact of his disabilities are minimised."
CYF Midlands regional director Tayelva Petley would not comment on Ashley's case but said the agency did all it could to support families and worked alongside community agencies, district health boards and specialist support agencies, such as IDEA Services, to ensure families received support.
For more articles from this region, go to Bay of Plenty Times