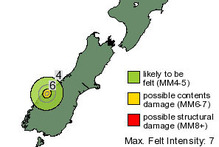 A strong magnitude 5.3 earthquake has rocked much of the West Coast and Otago this morning.
Geonet said the quake struck at 7.38am, and was centred 40km southwest of Haast, 70km northwest of Wanaka, at a depth of 5km.
The quake was reported to have been felt strongly in Wanaka, Alexandra, and Lake Hawea, and as far away as Westport and Dunedin.
Hamish Hill described the quake on social media website Twitter.
"Wow you could hear that one rolling through the hills in to Arrowtown, shakey [sic] start to the morning."
"The cats came screaming inside and a couple of glasses were rattling. It was a mild, light shake that went on for a while,'' said Fantail Cafe owner Aly Brown.
- Herald Online staff