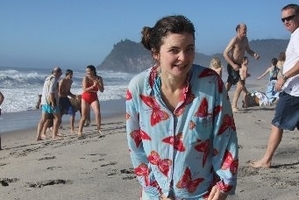 Stories making headlines across New Zealand at noon include a seemingly increasing epidemic of people wearing pyjamas in public, the final show by the Kawerau Kid and boy racers are terrorising brothel goers in Dunedin.
Following on from reported sightings in Gisborne, residents in other parts of the country are now reporting seeing people wearing their pyjamas on a daily basis in places such as dairies, supermarkets, the mall and even walking in the street.
The "Kawerau Kid" is taking his final bow in his hometown to mark the finale of his two-year farewell tour.
Boy racers are terrorising staff and clients at an inner city brothel in Dunedin. Meanwhile, three drunk males who shimmied up between inner city Octagon buildings in order to party on a roof may not have realised at the time they were risking their lives.
This is believed to be the world's largest man-made floating wetland.
Government agencies paid Rina Dunn's benefit and collected her rent for four months after she died.
Three cars and 11 people, including a baby and three children, were caught up in a crash on State Highway 1 south of Pakaraka.
Some Rotorua teenagers creating meme pages on Facebook say they are not carrying out "hate crimes".
Meanwhile, where should people be banned from wearing gang patches.
Six months of blood, sweat and tears mixed with a bit of chicken wire has paid off for Ross Dunn.
International Royalty has been visiting Hamilton.
Peter Wyper recalls a horrific childhood dogged with anxiety and depression.
Police have ruled out foul play in the death of a 47-year-old Mount Maunganui woman.
Have you seen this chair?
Charlie the Seal is still hanging out at Waimarino Adventure Park.
"Unscrupulous" money lenders are targeting Maori, Pacific and low income New Zealanders to charge extortionate interest rates of up to 400 per cent.
The search has begun to find New Zealand's most inspiring teacher for 2012.
Most Mahia Beach property owners are about to get a bill between $10,000 and $14,500.
The $3 Big Mac Guy or BMG has now taken to dressing up like a magpie. Meanwhile the corks are popping flat out at Hawke's Bay wineries.
Over in Wanganui, thieves are targeting blood-thinning drugs.
Meanwhile, Wanganui East residents have endured years of having their neighbourhood used as a racing circuit.
In Masterton, "She kept asking me 'What did I knock into, what did I knock into?' I told her she hit a bus."
Over on the Manawatu Gorge they've nearly finished removing enough material "to fill a bathtub in every New Zealand household".
Embattled Burwood residents are sick and tired of trucks, noise and dust.
Life is about to change dramatically for young people out of work and receiving youth payments or teen parent benefits.
This is what happens when you are held for ransom for four hours by tribesmen in Indonesian West Papua.
Queenstown's historic steamship has been vandalised.
Oamaru band Breakthrough Sound have proved you don't need a recording label to reach iTunes Top 10. Meanwhile, Waitaki's birth rate is at its highest level in 10 years.
And over on the West Coast, the coal mining town of Reefton is considering a complete ban on burning coal because it causes nasty air pollution.
Top trending topics on Twitter in NZ at noon include: Bluey, Afghanistan, Warriors, #warriornation, Wellington, New Zealand, Auckland, Twitter and Facebook.