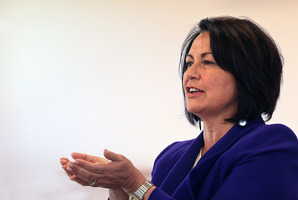 There were "serious failings across the whole system'' that allowed a convicted sex offender to teach in schools by stealing the identity of a registered teacher.
Minister of Education Hekia Parata released the findings of an inquiry today into how Te Rito Henry Miki was able to teach despite his convictions.
Miki stole the identity of a teacher registered on the New Zealand Teachers' Council website.
Ms Parata said the case was extreme, due to a complicated web woven by Miki.
"The report shows there were serious failings across the whole system.''
The inquiry, conducted by former ombudsman Mel Smith and former Education Review Office chief executive Judith Aitken made 35 recommendations, split into 39 actions, on how to prevent this happening again.
The Government has partially accepted 36 actions, of which seven have been already completed.
Another three are still being considered.
The recommendations were considered by a cross-government working party and an implementation plan was approved by Cabinet.
The recommendations have been divided into seven key areas: the role and functions of the New Zealand Teachers' Council, name change policy processes; identity checks; information sharing; offender management and police matters; education workforce and employment practices; and school governance.
It was noted in the report that Miki had three registered names - his birth name and two others that are suppressed.
Ms Parata said the findings were a "very serious wake up call for all government departments,'' after Miki was found to be teaching in an Auckland primary school in February.
The Department of Internal Affairs will look at sharing name changing with Ministry of Education and the Teachers' Council.
Ms Parata said the Department of Internal Affairs is currently reviewing its policy and processes around name changing and will report back in October.
A review of the Teachers' Council will be concluded and a report released in October.
Subject to the passing of the Privacy (Information Sharing) Bill, agencies will explore the possibility of the Department of Internal Affairs sharing relevant name change information with the New Zealand Teachers' Council and the Ministry of Education.
Ms Parata said notices had been issued to boards of trustees and principals during the process of hiring teachers and support staff.
"To help track high risk offenders the Department of Corrections has, this month, introduced 24-hour Global Positioning System (GPS) monitoring.'' she said.
Miki, 40, stole the identity of a teacher who was registered in 2001 and 2002 in order to teach in primary schools.
He was sentenced to four years in jail in May at the Auckland District court after pleading guilty to seven charges of using a document to obtain a pecuniary advantage and four charges of breaching a supervision order.
- APNZ