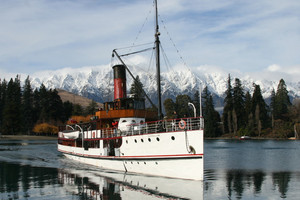 Crew members of TSS Earnslaw say there were "disgusted" to be confronted with the worst case of vandalism against Queenstown's historic steam ship in the past 12 months.
Owner-operator Real Journeys was upgrading its security after squashed food, litter, tobacco, damaged equipment and human faeces was found on board early on Tuesday.
It was the second alleged episode of vandalism since the $1 million survey and beautification of "the Lady of the Lake" was successfully completed last month, in time for its centenary in October.
Skipper Peter Greer said the penalty against the culprits "needs to be big enough so that they don't just see this as 'just a toilet prank', but as it is a direct threat to someone else's health."
Earnslaw and Walter Peak operations manager Angus Small said yesterday staff members had fully decontaminated the ship.
He hoped the vandalism would not lead to the Earnslaw being caged in protective fences overnight, as the security measure would "ruin" Steamer Wharf.
"Real Journeys doesn't expect this kind of behaviour from anyone. The vessel is precious to us and many members of the public and for individuals to disrespect her like this is a sad state of affairs."
Mr Small said the security camera network on board and around the wharf was being upgraded. Security patrols and neighbouring business operators were vigilant and intruders would be caught, he said.
A trio of Englishmen were found intoxicated on TSS Earnslaw by police on Tuesday at 4.40am. The men, aged 26, 24 and 19, were charged with trespassing and two were also charged with defecating in a public place.
All three are due to appear in the Queenstown District Court next Monday.