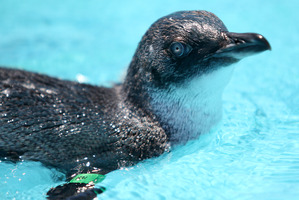 The deaths of two little blue penguins - from what appears to be dog attacks - on Wellington's south coast has prompted the council to remind dog owners to keep their dogs on a leash or, if they're in a dog exercise area, keep a watchful eye on them.
The blue penguins were found at the airport end of Lyall Bay beach by a member of the public last week.
Wellington City Council's biodiversity coordinator, Myfanwy Emeny, said it wasn't the first time little blue penguins had been attacked along the south coast.
"Late last month another penguin was found dead nearby at Hue Te Taka/Moa Point. From the bite marks on all three carcasses it appears the penguins were attacked and killed by dogs."
Ms Emeny said penguins had a strong smell and were very attractive to dogs.
"Small dogs can even get inside their nest boxes and destroy the eggs and kill the chicks.
"It is the nesting season now and adults are feeding their chicks in the nest. If an adult penguin gets killed or injured by a dog, it is likely their chicks would starve."
Councillor Ray Ahipene Mercer, who lives on the south coast said it was always frustrating to hear of penguin deaths, but he said people needed to be cautious before attributing blame.
"Unfortunately there are a lot of suspects in the area in this regard including feral cats and mustelids like stoats and weasels."
Under the Dog Control Act, the owner of a dog that attacked or killed wildlife could be fined up to $3000 and the dog could be destroyed.
- APNZ