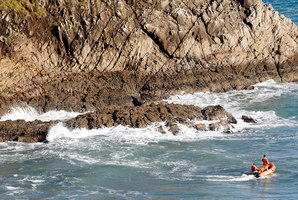 A body found yesterday off the New Plymouth coast has been identified as that of Joao Felipe Martins De Melo.
Felipe's body was found at the base of Paritutu Rock yesterday by a power station worker.
Taranaki Outdoor Pursuits and Education Centre climbing instructor Bryce Jourdain, 42, dived into the ocean to try to rescue 17-year-old Spotswood College students Stephen Kahukaka-Gedye and Felipe, who fell while climbing with a school group earlier this month.
Sergeant Andrew Ross of Taranaki Police Search and Rescue said the identity of the Brazilian exchange student's body was confirmed by the coroner today.
Some of Felipe's family were at a press conference in New Plymouth today and his uncle, Jose Martins, said Felipe was grateful for his time in New Zealand.
"Living in this great place (New Zealand) Felipe filled everyone with his joy, friendship and music.
He was so happy here that he insisted on extending his stay.
"Felipe was a great son and was very much loved by his family, had many friends and a strong desire to live.
"We will never forget that the sea in New Plymouth took our boy away. This will always be in the minds of all who met him."
Mr Martins said he would never forget the kind and genuine people of New Plymouth who were willing to do whatever it took to help Felipe's family in such difficult and sad circumstances.
Inspector Frank Grant said police had completed a further shoreline search in and around the port area and Paritutu Rock but had not found the bodies of Mr Jourdain and Stephen.
Police staff in kayaks had also conducted a further search around the port area and a helicopter conducted an aerial search until it was stopped by bad weather.
"We are determined to return the bodies of Bryce and Stephen home to their families. We are continuing to provide support and assistance to the families at this tragic time."
Mr Grant said the search would resume tomorrow morning.
- APNZ