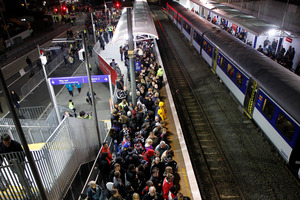 The French-owned firm responsible for the Rugby World Cup passenger rail shambles has quietly gained a two-year contract extension to keep running Auckland train services.
Despite the RWC opening night fiasco, Veolia Transport Auckland will be allowed to manage the new electric trains, the implementation of swipe card ticketing - and about 11 million passenger trips a year. Auckland Transport extended the company's contract without any public announcement, and without giving competing rail companies a chance to tender for the contract.
On September 9 last year, nearly 1000 people were late for the RWC opening ceremony and some opted to give up trying to get there after Auckland trains ground to a halt on the tracks, trapping people for about two hours. Since then, about one in five trains has been running more than five minutes late; more on some lines.
Auckland Transport spokeswoman Sharon Hunter rejected any suggestion that Veolia's contract extension had been kept secret in order to avoid a public outcry.
She said they simply hadn't got round to announcing it yet.
But Cameron Pitches, spokesman for the Campaign for Better Transport, said he understood the Veolia contract had been extended purely on the strength of a presentation to the Auckland Transport board. "When public money is involved, the contract should go to public tender rather than being awarded to the incumbent behind closed doors."
The deal does come with a sting in the tail for Veolia: it is now subject to strict new performance measures, so if the trains run late, it will be hit with cash penalties.
KiwiRail, too, which owns the railway lines, will be subject to penalties if it is responsible for delays - like the Wellington power outage that took down the Auckland commuter rail network at peak hour in April.
Bill Keast and his wife Pauline were stuck in a hot, crowded train for an hour when they visited Auckland for the RWC opening ceremony. He was surprised at the contract extension. "We were not impressed with Veolia," he said. "For them to get a contract extension without consulting the Auckland public does seem really strange. And why the secrecy?" The new contracts took effect on July 1, though Veolia customer services manager Nick Orange says his company negotiators are still tinkering with details of the performance measures.
The original 10-year contract was to have expired in March 2014, but will now go through to June 2016.
Graham Sibery, Veolia's managing director, said: "We are delighted that eight years' solid delivery has been recognised. We look forward to the challenges ahead and we will rise to them as we always do."