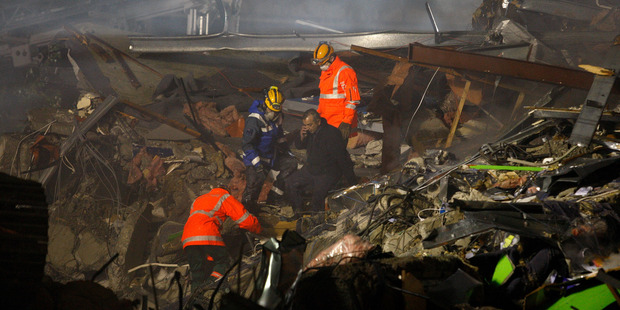 Probably no other structure in New Zealand has had as much forensic scrutiny as the CTV building in Christchurch.
For the past eight weeks, the Canterbury Earthquakes Royal Commission of Inquiry has heard evidence about the collapse of the six-storey office block.
The aim of the hearing, which produced intense and often explosive evidence, has been to find answers for authorities and the loved ones of the 115 people killed in its catastrophic collapse during the magnitude-6.3 earthquake on February 22 last year.
The aim of the commission, which heard the final evidence yesterday, is not to attribute blame.
But the hearing has revealed that many of those involved in the block's design and build have hardly covered themselves in glory.
As Brian Kennedy, whose wife Pam died in the disaster, says, "There are very few who can lie straight in bed at night".
High Court judge Justice Mark Cooper and his fellow commissioners engineers Sir Ron Carter and Professor Richard Fenwick will address crucial points in their final report, due on November 12.
Eyewitnesses
The royal commission hearings opened on June 25 with accounts from survivors who plunged five floors with babies and small children. Receptionist Maryanne Jackson told of running out of the concrete tower and into Madras St as the building collapsed behind her.
Others told of how it twisted, swivelled and ultimately pancaked.
One witness likened its collapse to that of New York's Twin Towers in the September 11, 2001 terrorist attacks.
Fire
The Fire Service did not carry out an investigation because it was too dangerous to do so and any reliable evidence would have been destroyed in the collapse and later de-layering of the building.
Urban Search and Rescue support engineer Graham Frost believes the fire may have started in crushed cars in the ground floor carpark.
Design
The Christchurch firm responsible for the building's design came under the spotlight for several days during the hearing.
The principal of Alan Reay Consultants, Dr Alan Reay, was called to give evidence on several occasions. He distanced himself from involvement in the design, saying the "sole responsibility" lay with his structural engineer David Harding.
But Mr Harding was inexperienced in multi-storey building design and in using the company's complex computer modelling system.
He said Dr Reay left him without guidance or instructions but worked more than the three hours on it that he said he did.
Pressure mounted on Dr Reay, known as "the doctor", as he gave evidence, and on his third round of evidence he offered an apology to the families and accepted responsibility for a design that "did not meet my standards".
Files kept on company disks which documented how the CTV building was built have disappeared.
Non-compliance
A Department of Building and Housing report into the collapse formed a large chunk of evidence.
It identified three "critical factors" in the building's design and construction, and also concluded that the design and construction fell short of 1980s standards.
Some of the most explosive evidence came from the widow of city council engineer Graeme Tapper.
Patricia Tapper told how her husband felt pressured by his bosses to approve the building plans, despite him writing to Alan Reay Consultants about concerns over its design and fears it may be an earthquake risk.
Former Alan Reay Consultants employee John Henry said Dr Reay would often bypass Mr Tapper and go straight to his building control unit boss Bryan Bluck to try to get building consent - an allegation Dr Reay denied.
Reinforcing
The lack of concrete reinforcement was a major cause of the collapse, expert engineers concluded. The co-author of the Department of Building and Housing report, Ashley Smith, found the CTV building's concrete columns should have had more steel reinforcing to provide adequate support in an earthquake.
"None of the DBH expert panel members thought that the design of the columns would have complied," he said.
Ductility allowed buildings to stretch and move in the event of an earthquake.
Auckland engineer Murray Jacobs said he'd never seen columns with as little reinforcing. They were "a risk to life", he said.
Other experts described the concrete in the building as "brittle like chalk".
Dr Reay, who called the DBH report "technically inadequate", blamed the lack of concrete strength on the contractor. One contractor claimed he drilled up to 200 holes into the beams of the CTV building in the late 1990s, but admitted his memory of the job was "hazy".
Construction
Local firm Williams Construction had the $2.45 million contract to build an office block that would maximise office rental space for as little as possible for developer Prime West Ltd.
Both firms struck financial difficulties before the job was finished, said former Williams managing director Michael Brooks.
He hired Gerald Shirtcliff to ensure the office block was built to comply with design engineer plans and specifications.
Mr Shirtcliff, a convicted fraudster who now lives in Australia under another name, initially refused to give evidence but eventually gave his version of events via video-link.
Although his employers thought he was visiting the CTV building site every day, he said, he visited once a month.
Commission lawyers accused him of "distancing" himself from the ill-fated project.
Drag-bar remedy
In 1990, the Holmes Consulting Group identified a serious structural weakness in the building, and it was decided to correct it.
Drag bars were installed to help connect the concrete floor slabs to the north shear core - a support wall on the outside of the building and the only one left standing after the quake.
But structural engineer Murray Jacobs told the commission that drag bars - installed only on the top three levels - could have reduced the strength of the walls, rather than increasing it.
He said the bars, which help evenly distribute earthquake stress, should have been part of the building's original construction in 1986.
Post-quake inspections
One of the most emotive areas covered was how the building was inspected for dangers after the magnitude 7.1 quake of September 4, 2010 which sparked the Canterbury earthquake sequence and its subsequent aftershocks.
The first inspection was done the next day by a council worker who approved the building as safe to occupy without entering it.
It was approved again two days later after a second, "more detailed" inspection by a three-man rapid assessment team, none of whom was an engineers.
Workers in the building told how they felt unsafe in it after September.
It shook when trucks went past and after finding damage inside, the workers reported it to their bosses, then to building manager John Drew.
He faced a stern examination on the witness stand over why he chose not to order a second structural engineer's assessment after the Boxing Day quake.
He contradicted evidence of workers who told of being frightened inside the shaking building when he said he thought the structure "felt strong" after the seismic jolts.
He later admitted to feeling a "huge sense of responsibility" after the disaster.
Credibility
Now the royal commission has heard the mass of evidence, which includes thousands of documents and hours of testimony, one of the main issues for it to consider is who to believe.
What weight will be given to which evidence? Whose memory of events in the mid-1980s when the CTV building was built can be trusted?
Crucial areas are disputed by core parties, especially Dr Reay and his structural engineer Mr Harding, and the commission must decide which was the most reliable evidence.
Families
For those who lost loved ones in the tragedy, the past eight weeks have been hard to bear. The sometimes graphic evidence and the commission's need to examine every aspect of the building's short history have added to their grief and anger. .
Many have visited the Riccarton church hall where the hearings have been held, listening intently and trying to work out what went wrong.
Others have refused to read newspapers or turn on the television, preferring to let the commission run its course, and try and piece together their lives.
Some families will want police to build criminal prosecutions once the final report is complete. Others will turn their attention to a possible civil action - which legal experts say is still possible - against those believed to be at fault for the disaster.
"There's a chance the coroner may take it further and prefer police charges, but where does it stop? Do we keep going on like this for 10 years? One would hope not," said Brian Kennedy, who is also the spokesman for the Quake Families group.
"I personally don't see any point in pursuing it past the royal commission but there are a couple of people in Quake Families who may take it further.
"But I think the majority would hold a similar view to mine. It won't bring back our loved ones."

Burnout toll rising in shaken city: researcher
The earthquakes in Christchurch may have eased, but burnouts as a result of emotional exhaustion have been increasing in the city's workplaces, a researcher has found.
Kate van Heugten from the University of Canterbury has been interviewing managers and workers in Christchurch and has found many are experiencing significantly higher levels of stress because of the earthquakes.
"When people are under stress, they begin to find it harder to think through problems and prioritise, they may feel down or easily irritated," she said.
Physical signs included tiredness that can't be overcome by rest, infections, skin irritations and stomach upsets.
She interviewed people from government departments, non-government organisations and industry groups.
Workloads had increased for some people, but for others problems had come from clients' more complex problems, or from other staff members leaving and not being replaced.
"Workers are more likely to burn out in organisations where they experience lack of control over how they work, unreasonably tight regulations, and where they don't feel the organisation treats them with fairness and respect, or they feel disillusioned about the organisation's values," she said.
"In the aftermath of a community crisis such as the earthquakes, people's capacity for work will be reduced.
"It is foreseeable that workers will become exhausted and may ultimately suffer burnout unless organisations take proper account of that."
She said short breaks were helpful, but once people were burned out, it was too late for minor measures.
When people were truly exhausted, Ms van Heugten said, they lost their capacity for empathy, appeared cynical, and had low self-esteem.
They were also likely to lose their attachment to the workplace, be less productive, and take more sick leave or ultimately resign.
She said practical support, coupled with respectful empathic communication, went a long way in retaining loyalty.
She found people suffering stress needed to have fun in their life and exercise.
She said laughing at work was important, as was spending time with family and friends.
- APNZ