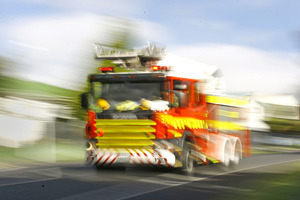 The heroic actions of two teenagers saved Angel the bulldog from a fiery death.
Ethan Russell and Cameron Wilson, both 18, broke down the front door of a burning house and carried the dog to safety.
The boys were returning to Ethan's Merivale home about 11.40am yesterday when they heard a smoke alarm going off and noticed smoke coming from the house next door.
Ethan yelled out to his mum to call the fire brigade and the pair jumped the fence to see if anyone was inside the house.
"We looked in there and thought, 'Stuff this, we have to go and have a look', so we kicked the front door down," he said.
The boys used their shirts to cover their nose and mouth and headed into the lounge, where they found Angel and carried her to safety.
The boys checked the rest of the house before going to the adjoining unit to alert the elderly resident and get her out.
Angel did not seem quite her usual self after the ordeal but bounced back pretty quickly, Ethan said.
"She was pretty quiet and whimpering. Now that she's seen her owners she's pretty happy," he said. "She growls at me all the time when I come home she better not any more."
Tauranga Fire Brigade senior station officer Len Sabin said the Harrier St house was well alight when firefighters arrived. The blaze destroyed the kitchen, hallway and one bedroom but there was extensive smoke damage to the rest of the house. The adjoining unit was not damaged.
The cause of the fire may have been an electrical multi-box which was covered by a pile of clothes, he said.
The owner of the house had gone to visit his wife at work on his way to pick up their two boys from his father-in-law's house.
"The boys will be so glad Angel's okay," said the wife.
The couple, who did not wish to be named, were devastated by the huge damage to their first home but glad no one was inside at the time.
For more articles from this region, go to Bay of Plenty Times