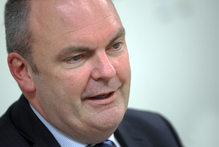 The money spent on branding the Ministry of Science and Innovation was a waste of taxpayer cash, says the Labour Party.
Leader David Shearer accused the Government of waste when it spent $420,000 on "the shortest-lived ministry" at at time when frontline staff are being cut.
"Over half a million dollars was spent on the shortest-lived ministry of recent times for a flash fit-out and branding that included 180 punnets of promotional putty.
"All those pens, signs, posters and putty punnets may as well have been chucked into a rubbish skip behind Steven Joyce's pet project MoBIE. An astonishing waste," said Mr Shearer.
Information obtained by the Labour Party shows the Government spent $420,000 on branding, signage and a website - this included $70,000 on visual identity, $27,000 on a logo, $20,000 and $16,000 on signs.
The ministry was set up by the National Government but absorbed by the Ministry of Business, Innovation and Employment (MoBIE) after 18 months.
Labour said Treasury recommended in 2010 the two agencies that formed the Ministry of Science and Innovation should be merged into the Ministry of Economic Development.
"National ignored the advice but months later changed its mind and announced the new Ministry of Business, Innovation and Employment, incorporating MSI and MED and other agencies," he said.
"The Government's supposed public service reform is an incoherent ego trip for ministers. First Wayne Mapp wanted a stand-alone science ministry. But it was a case of new minister, new ministry as Steven Joyce came in and created his MoBIE empire," said Mr Shearer.
Former National Minister of Defence and Research, Science and Technology Wayne Mapp has retired.
- APNZ