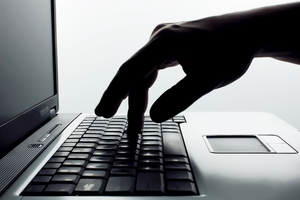 A convicted child pornography offender who breached his parole by accessing the internet has escaped with a two-month deferred sentence.
Graeme Murray Purvis, 48, unemployed, appeared in the Dunedin District Court yesterday and admitted committing the breach on July 25 by using a computer to access the internet and sending an email without written consent from his probation officer.
Court probation officer Liqueshia Dougherty told Judge Bridget Mackintosh Purvis was considered to have a "high risk" of re-offending. He was resistant to treatment and refused to engage with his probation officer.
The Community Probation Service was asking for a punitive sentence, Ms Dougherty said.
Purvis was released on parole from Invercargill Prison on March 14. He was serving a three and a-half-year prison sentence for knowingly making or copying objectionable publications, possessing objectionable material (12 charges) and sexually grooming a young person.
On his release, he was made aware he was not to use a computer or electronic equipment capable of accessing the internet without the written consent of his probation officer.
On July 25, Dunedin police contacted the probation service with information Purvis had sent an email indicating his intention to access Facebook, Ms Dougherty said. That was a clear breach of parole conditions. While it related to a job site, it indicated his intention to access social networking sites. He had convictions for two prior breaches involving the use of the internet and accessing an underage child.
Purvis had located a computer through an associate, who was also a sex offender. The computer was owned by another person and they used it at that person's home. The defendant had said he intended going on dating sites, Ms Dougherty said.
Duty lawyer Nathan Laws submitted Purvis had been otherwise compliant with his parole conditions and his parole was due to finish on September 16.
The defendant disputed any reliance could be placed on his admission that he intended accessing social networks. The sole reason he went to the internet was to find a job. He was "so focused on getting one that he didn't think about it".
"It didn't occur to him it could be a breach," Mr Laws said.
Community work was not recommended, as there were issues about the defendant's safety. But to a suggestion it would be unfair for him to face a heavier penalty because he could not do community work, Judge Mackintosh told Purvis: "You know what the rules are, and you are subject to those rules until the end of your sentence."
Purvis knew he was not to use the internet and she did not accept he did not realise he was breaking his parole conditions by accessing it, the judge said. He knew he was not to go anywhere near any social media networks and he was. But there did not seem to be anything sinister about it "on this occasion".
Any further breaches would mean prison, Judge Mackintosh said, convicting Purvis and deferring sentence for two months.