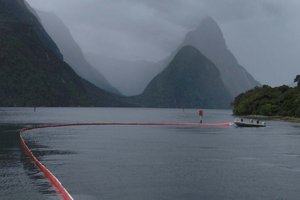 Environment Southland staff are on alert after a crane and power pack containing more than 1800 litres of fuel toppled at Milford Sound's Freshwater Basin yesterday.
The crane, which was mounted on a barge, fell about 2pm. Its body and cab remained on the barge and part of the boom came to rest on a pile.
There was understood to be 200 litres of diesel and 24 litres of engine oil in the crane and about 1600 litres of hydraulic oil in the power pack, Environment Southland communications manager Michelle Poole said last night.
Milford Development Authority staff set out booms around the barge in case oil leaked into the water. The operation was later upgraded to a regional-scale tier 2 response, directed by Environment Southland staff.
No oil had spilled into the water so far, she said.