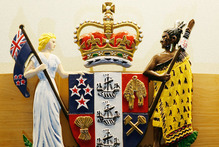 A man who killed his mate when he prised his fingers from a balcony handrail has been sentenced to three years and seven months in prison.
Barry Harwood, 66, appeared in the High Court at Auckland for sentencing today after earlier pleading guilty to the manslaughter and assault of Stewart Kingi at an Auckland apartment on March 10, 2010.
Harwood's lawyer James Boyack said his client had a brain injury after he was assaulted during a home invasion in 2003.
He argued that Harwood had serious health injuries, including prostate cancer, and a sentence of imprisonment would be too severe.
Crown prosecutor June Jelas sought a jail term and said everyone on the night would have known that Mr Kingi was heavily intoxicated and only semi-conscious.
She said Harwood deliberately uncurled Mr Kingi's fingers from the handrail of the balcony at the Glen Innes unit.
Justice Murray Gilbert said that despite Harwood's brain injury, he had been found fit to stand trial.
He said he had read victim impact statements from Mr Kingi's family which showed that the death had left them devastated.
Justice Gilbert said Mr Kingi's parents had moved to Hawkes Bay to be closer to their daughter for comfort.
He said another family member had spoken of Mr Harwood taking "part of the family's spirit".
The court was told Harwood and Kingi, along with two other friends, had been drinking all day at the apartment when the death happened.
According to the police summary of facts, Kingi and Harwood had been drinking since 8.30am. Ten hours later they were both drunk when Kingi passed out on the floor and wet himself.
The police say it was then that Harwood became "enraged". He swore at Kingi and punched him on the ground.
Kingi was taken outside on to the balcony, 3.9m above the ground.
Police said Harwood forced Kingi over the rail but he clung on.
"As Kingi tried to swing one leg up to the balcony, in an attempt to pull himself back up the defendant prised at Kingi's fingers, forcibly causing him to release his grip from the handrail," the police summary of facts said.
Kingi fell headfirst on to the concrete below.
A neighbour who witnessed the fall called an ambulance while Harwood went back inside the apartment.
Kingi suffered a fractured skull and brain injuries. He died the next day in Auckland Hospital.
- APNZ
By Edward Gay @edwardgay

Email

Edward