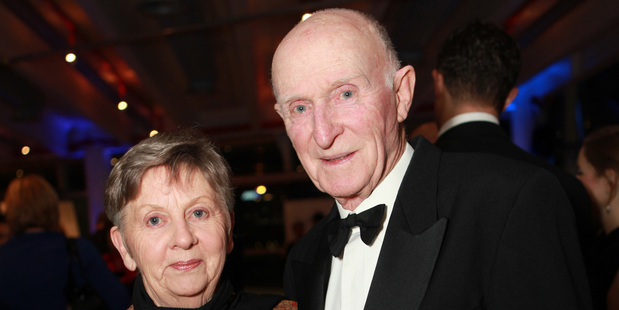 Olympic track great Sir Murray Halberg has pulled out of a major Olympic commemoration after suffering a heart attack.
Halberg, the gold medallist in the 5000m at Rome in 1960, was flown to Auckland City Hospital by rescue helicopter after suffering a heart attack on Waiheke Island.
He was to appear at the Countdown Breakfast of Champions event at SkyCity this coming Wednesday, alongside fellow Olympic champions Sir John Walker and Sir Peter Snell, who is to be beamed in by video link from the United States.
The trio were to take guests through the pre-race build up before the 1500m final, in which Willis is expected to appear. However, Halberg would no longer be able to attend, his wife said.
The 79-year-old Olympian is now recovering at his Auckland home after the July heart attack, where Lady Phyllis said he was comfortable, progressing well and enjoying the Games on television.
"He's watching the Olympics, don't you worry about that. He wants to congratulate all the team and he feels very proud that they're doing so well. All credit to them and their coaches; it's been a marvellous effort."
The couple missed seeing New Zealand rowers storm across the line for three golds in 24 hours, but their daughter had recorded the footage for them to watch at a more reasonable hour.
Lady Phyllis said her husband was looking forward to seeing how Nick Willis fared in the 1500m. Willis won his heat yesterday morning (NZT) and will compete in the semifinal tomorrow.
Willis couldn't be contacted before the Herald on Sunday went to press, but an aunt who raised him said Willis was a fan of Halberg's.
"He looks up to him. He's read all his books," Gill Willis said.
Field of Dreams trustee Arthur Anae said the sold-out Breakfast of Champions would still go ahead.
Yesterday, Peter Snell told the Herald on Sunday he believed Nick Willis could triumph in the 1500m final that same morning.
"He could upgrade that silver to a gold."
Snell, who was diagnosed with a weakened heart two years ago, wished his old training partner Halberg a "good and speedy recovery".
Dick Tayler, who won the 10,000m at the 1974 Commonwealth Games, said Halberg had been his boyhood hero, and in later years became a close friend.
"We all have a few hiccups every now and then," he said.
"We want to see him around for a long time yet."
As well as his Olympic success, Halberg was a Commonwealth Games double gold medallist and was the first Kiwi to run a mile in under four minutes.
However, he is also known for setting up the Halberg Trust in 1963, which helps disabled people take part in sport.
Halberg was disabled by a rugby tackle that left his left arm paralysed when he was 17.
New Zealand's premier sports awards, the Halbergs, are named after him.