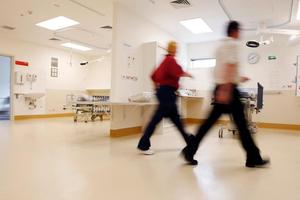 A 29-year-old woman suffering a suspected medical emergency waited three days for spinal surgery because of a botched referral to a hospital.
She has a permanent disability from nerve compression in her lower back.
Health and Disability Commissioner Anthony Hill, in a decision made public yesterday, said the woman's GP breached the code of patients' rights. He also mildly criticised an orthopaedic surgeon.
"Ms B" saw her doctor on November 16, 2009, several days after slipping in the shower. She had sciatic pain on her right side and tingling in her right foot.
Dr A suspected a prolapsed disc, talked to a specialist, arranged a CT scan and prescribed pain relief and anti-inflammatory medicine.
Four days later, a Friday, she returned to Dr A suffering urinary incontinence.
He recognised the importance of this. He had the CT scan appointment brought forward and tried, unsuccessfully, to contact the local public hospital's on-call orthopaedic surgeon, Dr C, and faxed a referral to Dr C's private clinic.
He left a message on Dr C's mobile phone and told the patient to go to the hospital emergency department during the weekend if she did not hear from Dr C or her symptoms worsened.
Mr Hill's report said the woman's symptoms were indicative of cauda equina syndrome, a compression of nerves in the lower spine. Medical guidelines state this condition is a "medical emergency and requires urgent hospital referral ... for orthopaedic or neurosurgical assessment".
Mr Hill said the GP believed he had left his own and the patient's contact details in the phone message for Dr C, who was in theatre at the time.
But the recollections of the message from the patient and the orthopaedic surgeon did not confirm this.
"I accept, however, that Dr A did identify himself in the telephone message and that Dr C would have been able to obtain Dr A's contact details."
Acting on the phone message, Dr C looked in the emergency department and the wards for a patient with Ms B's symptoms. She went to the hospital for the CT scan on the Monday morning.
Dr C operated on her later that day to decompress the disc. She has had two subsequent operations, but has significant ongoing neurological problems and Dr C stated she would undoubtedly have permanent disability from the disc prolapse.
Mr Hill said the GP's failings included not ensuring his patient was reviewed by a specialist on the Friday, not following up his phone message and fax to Dr C, and not impressing on Ms B the need for timely review.
Dr C should have made more attempts to find the patient.
"Primary care centres and district health boards need to ... develop clear, unambiguous systems for referring patients," Mr Hill said.
The DHB concerned, which in 2009 did not have a written protocol for primary care referrals to the emergency department, now had a document explaining the GP referral process and had set up a direct "primary care referral line" for community doctors to speak to senior ED physicians.