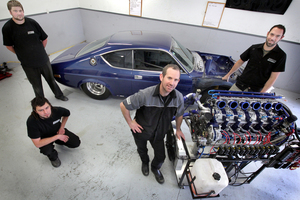 A Wanganui mechanic has achieved a world first by building an engine that Mazda New Zealand didn't think was possible.
Warren Overton, along with colleagues Gareth Lewis, Vaughn Campbell and Ben Simkin, took five months to build the first 2000hp, six rotor engine for a friend's car.
"He wanted something different, and so did we. We thought about doing a five rotary engine but largely because of balancing issues we went with six," Mr Overton said.
The engine was built in Pulse Performance Race Engineering's workshop, known for its high powered engines.
Mr Overton said Pulse Performance had worked with well known drifter MadMike and sprint boat racer Peter Huijs, providing him with four rotary engines for competition.
"There is a big myth surrounding rotary engines. People say they are unreliable, however they are really a very reliable race engine," he said.
The group faced a couple of issues, the crankshaft proving to be the toughest engineering feat.
"It all began as an idea but we turned it into a reality," Mr Overton said.
Once word got around that they were building the engine a great deal of excitement was generated among rotary enthusiasts and rotary engine sales at Pulse Performance increased.
"Mazda USA shared a link of our videos on Facebook when they heard about the engine. They said they were excited to see the rotary kept alive," Mr Overton said.
Co-owner of Pulse Performance Michelle Sigley said she and her husband, Alex, started the business in August 2007 because they saw such amazing potential in Mr Overton.
"It is truly amazing that such a young mechanic from Wanganui has again put New Zealand on the map, Kiwi ingenuity has surpassed the rest of the world," Mrs Sigley said.
Mr Overton said the next steps were to get the car ready so they could install the engine and potentially one day they would look at making a turbocharged version.
A Youtube video of the motor was uploaded by Pulse Performance the day after completion, attracting more than 156,000 views.
The car will be used for drag racing and is expected to cover the quarter-mile in about eight seconds, hitting a top speed of about 250km/h.
For more articles from this region, go to Wanganui Chronicle