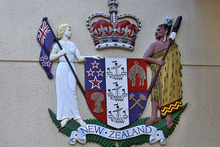 A comedian who sexually assaulted his four-year-old daughter has managed to rebuild his life since his drunken crime but his career has been tarred.
The man has been relegated to "back room capacity'' at the company where he was a reputable employee before the offending.
District Court Judge Mark Perkins said the comedian had faced a "serious decline'' in the work available to him because despite permanent name suppression and having originally been discharged for his offending, his identity was known to many in the industry.
He has repaired relationships with his family and been abstinent from alcohol for two years, and today his job was put under further pressure when he was sentenced in Auckland District Court to eight months home detention.
Judge Perkins said the sentence needed to reflect the "culpability and criminality'' of the comedian's crime, after he was originally discharged without conviction.
The High Court ordered earlier this year that the original decision was too lenient for the comedian, who had a clean history before December 9, 2009.
That night the comedian arrived home drunk from a work Christmas party and as he got into bed he made sexual advances to his wife, who rebuffed his approaches.
The pair fell asleep and their four-year-old daughter later crept into their room and lay between them.
The comedian laid his daughter on her back, pulled down her pyjama pants and nappy and kissed her.
The man's partner was woken by the noises of kissing and immediately asked him what he was doing. The man stopped, and said "I thought it was you''.
"It is clear that this was grave offending. Removing clothing from a child of this age and committing acts of a sexual nature could not be regarded in any other way,'' Judge Perkins said.
Judge Perkins said the man's claim to have no memory of the drunken incident was "inconsistent'' with the evidence that he told his partner he thought it was her.
He ruled that a conviction to send a message to the public outweighed any future professional consequences for the comedian.
A letter from the man's employer said his identity was "well known'' to a "considerable group of people in that industry''.
"Even with the benefit of suppression and previously being discharged ... you have faced a serious decline in the work available to you, and a consequential decline in income,'' Judge Perkins said.
At the original sentencing in September last year, Judge Philippa Cunningham said a conviction would outweigh the gravity of the offence. In her reasons for the man's discharge she included that he "makes people laugh''.
"He's a talented New Zealander. He makes people laugh. Laughter is an incredible medicine and we all need lots of it,'' Judge Cunningham said at the time.
Criminal law Associate Professor Warren Brookbanks said today's sentence did not prove a failure in the courts but rather showed "an acknowledgement the system can correct itself''.
Prof Brookbanks, of the University of Auckland, said the sentence of home detention was "entirely appropriate'' and the comedian should be thankful he was not sent to prison.
"I think a lot of people were stunned. I was personally rather amazed [at the original sentence],'' he said. "It just didn't seem right.''
Denise Ritchie, the founder of the Stop Demand Foundation, said today's sentence showed the severity of crimes against children.
"The message from the court today was very clear: all sexual crimes against children are to be treated seriously, convictions entered, and sentences imposed must both denounce and deter.''
Judge Perkins said the man has managed "significant progress'' in mending the relationship with his former partner and he has re-established a "healthy, normal relationship'' with his daughter, who he has joint custody of.
Judge Perkins said there had been no sign of trauma to the man's daughter, except for the stress of her parents' separation.
"Obviously one would hope the child would not remember details of the offending.''
By Kieran Campbell @KieranCampbell

Email

Kieran