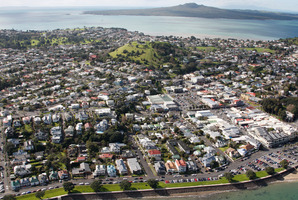 Auckland Mayor Len Brown says the economic downturn has more to do with the slump in house building than council controls on urban sprawl.
Replying to calls to free more farmland for affordable homes, Mr Brown says Auckland has enough land ready to build 18,500 homes.
"Auckland needs approximately 10,000 dwellings to be built a year to keep up with population growth," he says in a letter prepared for Friday's Auckland Council meeting with Government ministers.
"There is currently provisions for the development of approximately 18,500 dwellings on already zoned and serviced greenfield land.
"This land can be built on today subject to market conditions and represents four years' worth of supply of greenfield land related to growth projections.
"This means that current regulations around land use are not the cause for unmet demand for housing."
He says the difficult economic environment caused the downturn in building activity because 10,000 dwellings were being built annually across the region when the economy was stronger earlier in the decade.
Housing affordability was a complex issue and was the focus of the first phase of the council's housing strategic action plan, which was set for completion in December.
Mr Brown said growth must be encouraged within the framework of the Auckland Plan for the next 30 years which allows for 70 per cent of residential growth within the present urban area and 40 per cent in new greenfields land.