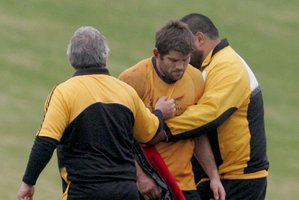 Simon Chisholm (centre) is reluctant to leave the field after being knocked out in the second half of the premier-grade rugby match. Photo / Chris Callinan
A complaint has been laid with the police after a king hit knocked out former Bay of Plenty Steamers hooker Simon Chisholm during a premier-grade rugby match on Saturday.
The Te Puke Sports player was hit with so much force during the game against Te Puna that he spent two nights in Tauranga Hospital recovering from severe concussion caused by bruising to the brain.
His assailant allegedly walked over during a verbal exchange between players and punched him on the side of the head, badly cutting his ear.
Chisholm's father and former top rugby referee Hugh Chisholm was so disturbed by what happened that he lodged a statement with the police and was due to speak with Tauranga Police yesterday afternoon about charging the Te Puna player.
Although he did not attend his son's match at Maramatanga Park on Saturday, Mr Chisholm said he had seen enough from the sidelines this season to be alarmed by the amount of foul play.
"It is bloody disgusting," he said.
He also took his complaints to a Bay referees association meeting about three weeks ago.
Chisholm was the second rugby player on Saturday to be on the receiving end of a big punch.
Te Puke Sports colts flanker Luke Keenleyside ended up with a broken jaw when he tried to break up a sideline fracas at Tauranga Domain.
The trend toward bigger injuries being inflicted when players snapped was also highlighted by Greerton Marist colts flanker Parker Cook whose jaw was broken in two places by a punch delivered during a match against Rotorua's Marist St Michael's on July 7.
Mr Chisholm said the head was sacred and you did not kick or punch the head.
"The people that were there on Saturday told me that it was thuggery," he said.
He was pleased that an elder from the Te Puna club had gone to the hospital on Saturday night and apologised to his son.
Bay of Plenty Rugby Football Union's judiciary committee chairman Ian Spraggon said it would be fair to say that it was the nature of the violence this season that concerned him because it was causing serious injuries.
"We got plenty of red cards last year, but not for this sort of thing," Mr Spraggon said.
A disciplinary hearing had been called for tomorrow to consider the red card handed out by referee Bryce Lawrence at the Te Puna game.
The colts game incident would be handled through a complaint because the person accused of punching the Te Puke Sports player had been a reserve and could not be red carded.
Bay of Plenty Rugby Union chief executive Mike Rogers said any police investigation operated independently from the judicial committee.
He said there was no place for any violence on the field and the union had been encouraging referees to stamp it out of the game.
Red cards were down this season.
Mr Rogers said he had spoken to Mr Lawrence who said it had been a good game apart from that incident.
"Unfortunately you get individuals who ruin it for the rest of the 9000-odd people playing the game here," Mr Rogers said.
Te Puke Sports president Ashley Peat was unsure whether there was more foul play this season but he had noticed that when players snapped and let fly with a punch, they generally seemed to be pretty big hits.
"All clubs need to talk about this," Mr Peat said.
"It is definitely an issue in rugby at the moment and it is something that needs to be addressed for the good of the game."
He understood that Keenleyside's jaw was broken by a Tauranga Sports player who was in the reserves. It wasn't until "some clowns on the sideline" joined in that the pushing and shoving got out of hand, Mr Peat said.
Te Puna Rugby chairman John Rolleston said the club could have done without what happened on Saturday, although he did not think that foul play had been rife this season.
"The teams have been pretty good," Mr Rolleston said.
for more articles from this region, go to BAY OF PLENTY TIMES