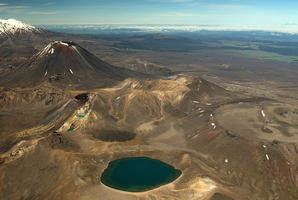 Mt Tongariro's volcanic risk has been upgraded for the first time but scientists and locals have dismissed immediate chances of a large eruption.
Yesterday scientists at GeoNet upgraded the alert level for the volcano after recording a swarm of volcanic earthquakes.
GeoNet said typically Tongariro experienced two such quakes - magnitude 2.5 or less - a year but there had been more than 20 since July 13.
The mountain now sits on alert level one - indicating minor signs of volcanic unrest.
GNS Science volcanologist Brad Scott said it was the first time the alert for Mt Tongariro had been raised, but activity was still very low.
"We're only seeing seismic activity, we're not seeing any chemistry, heat flow, gas changes. We're not talking eruption at this time."
Other volcanoes such as Mt Ruapehu and White Island never dropped below level one, he said.
"Both of those volcanos, you can go to them and they have crater lakes that are hot ... they can't get to [level] zero."
The Mt Tongariro earthquakes - which increased in numbers yesterday and on Thursday - struck in a zone between the Te Mari craters and Emerald Crater.
The Te Mari craters lie about 2km east of Ketetahi hot springs on the north side of Mt Tongariro. They are the only remaining active volcanic craters on Tongariro.
Portable seismic recorders on Mt Tongariro would now be monitored and samples collected from selected hot springs, crater lakes and fumaroles.
Last night Jared Thomas, who has owned Tongariro Expeditions for about 20 years, was unconcerned about the volcanic activity alert.
He said he had seen steam coming from the Te Mari craters last year, but that depended on atmospheric conditions.
"Kiwis would be more likely to jump in the car and come and have a look," he said of the alert level upgrade.
Seismic activity indicating unrest was last detected at Tongariro during 2001.
Vince Neall, a professor in earth science at Massey University, said that activity was likely caused by a cylinder of magma underneath the Te Mari craters. "[Scientists] thought that [the 2001 earthquakes] were probably related to degassing, and the magma effervescing a bit, and creating these waves."
Scientists would now be on alert and carefully monitoring the volcano, but such activity could go on for years, Dr Neall said.
The last eruptions at Mt Tongariro were in 1896-1897 at the Te Mari craters. Ash settled as far away as Napier, and Benedict Friedlander, a witness who was camping on the northern slope of the volcano, later wrote of the eruption:
"The pillar of steam ... was almost like that of a solid body - an enormous stalagmite, as it were.
"There was ... a continuous play of electric lightning in the clouds ... the thunder blended together and formed a continuous roar.
"Then there appeared large flames of a brilliant-blue hue, which mingled with the ascending steam - apparently floating."