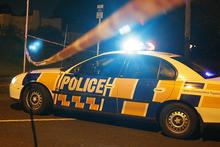 An 18-year-old woman wandered into traffic and lay down in the middle of the road before being struck and killed by a car in south Auckland last night.
The woman had been travelling in a vehicle on Karaka Rd in Drury before she got out and stepped into the lane about 8pm.
Sergeant Paul Latham of the Counties Manukau police serious crash unit said the woman then walked in front of several vehicles before lying down in the middle of the road.
She was struck and run over by another vehicle.
"I haven't had a chance yet to look at the vehicle yet, but I suspect she may have sat up, but we haven't got that confirmed yet because it's so early in the investigation," Mr Latham told APNZ.
Asked if the woman had been in a distressed state, Mr Latham said police had spoken to quite a few witnesses and were still piecing together what had happened.
"There were quite a few people around at that particular time. The problem is, at this stage, it's so early for us in regards to being able to get any exact details," he said.
"The high risk is actually giving the wrong information out, which would obviously upset the family, so we have to be a little bit careful - especially with the fact that some witness statements can be conflicting.
"So we need to go through it and look at the forensics to actually work out what did happen in those final moments."
Serious crash investigators carried out an initial scene examination last night. The examination was completed today.
Police are due to examine the vehicles tomorrow.
- APNZ
By Matthew Backhouse @Mbackhouse

Email

Matthew