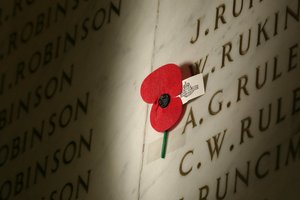 Government has committed $17 million to mark the centenary of the First World War as part of the latest round of lottery grants funding.
Internal Affairs Minister Chris Tremain announced yesterday [TUE] that some of the $200 million in lottery grants would be used to commemorate 100 years since the War and the ANZAC landings at Gallipoli.
"I am looking forward to activities and events which will bring New Zealand communities together. The centenary gives us the opportunity to remember those who fought and served in all wars, conflicts and peace operations in the past one hundred years," Mr Tremain said.
"Increased attendances at ANZAC services show a growing interest and understanding of the sacrifices made in all armed conflicts. This funding will enhance commemorations for everyone regardless of where they live in New Zealand."
From next month, community groups could apply for a slice of the $17 million, and at least $10 million of this funding was expected to be committed to a large-scale commemoration.
A series of memorial events would begin in 2014, with the centenary of the Gallipoli landing in 2015.
More than 10,000 New Zealanders and Australians were expected to make the pilgrimage to Turkey for the 2015 memorial, prompting Government to consider a ballot system for travel to the tiny peninsula.
The Ministry of Culture and Heritage has proposed running a series of events between 2014-18, including a heritage trail and restoration of war memorials.
Mr Tremain said the $200 million in lottery profits from Lotto, Instant Kiwi and Daily Keno proceeds was $26 million more than forecast.
Sport New Zealand received $34.6 million of the lottery proceeds, Creative New Zealand received $26 million, and the New Zealand Film Commission $12.1 million.
Lottery grants:
$27.48 million - new World War One Commemorations, Environment and Heritage Committee (at least $17 million for WWI activities)
$25.95 million - Creative New Zealand
$12.1 million - NZ Film Commission (including NZ Film Archive)
$34.6 million - Sport New Zealand