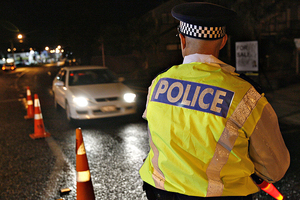 Police praised an Oamaru resident who reported a heavily intoxicated drink-driver yesterday.
The member of the public was concerned at seeing a 41-year-old Te Anau man allegedly get into his truck and drive off.
Oamaru community constable Bruce Dow pulled over the driver on Severn St at 9.20am. The man blew a staggering 1604mcg, and was instantly banned from driving for 28 days. The adult limit is 400mcg.
Mr Dow said the driver admitted to drinking a bottle-and-a-half of Jack Daniels with a relative in an all-night drinking session.
The veteran police officer said the level was the highest he had seen and described the driver as a "potential killer".
"The person who rang us was doing the right thing," Mr Dow said.
The sooner such drink-drivers were off the road, the better, he said.
"They were putting not only themselves but oncoming traffic and pedestrians in danger."
The man is to appear in the Oamaru District Court on July 18.
The incident was the second occurrence in the district in July of a driver being pulled over with a breath-alcohol level greatly exceeding the legal limit.
A 29-year-old Twizel man was arrested by the Omarama police for allegedly driving with an excess breath alcohol level of 1454mcg last Friday.
The Twizel man was reported to police by concerned residents after being refused service at a local liquor store due to his intoxication.
Mr Dow said in most cases people were respecting the law and not drink-driving, but for some people the message was not getting through.
- The Oamaru Mail