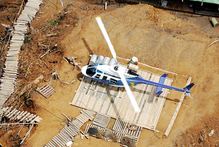 Search teams will hunt today for further clues to the whereabouts of a helicopter and its three occupants, missing in dense Papua New Guinea jungle.
New Zealander Antony Annan, 49, and two Australians, Russell Aitken, 42, and Emmett Fynn, 36, were last seen a week ago.
The first sign of their Bell 206 helicopter was found yesterday, when a villager discovered debris in a stream.
Soon afterwards, searchers were flagged down by a second villager who had also found debris about a kilometre upstream.
Ian McBeath from Hevilift, which operates the helicopters, said very heavy rain in the area on Wednesday night had probably flushed the items out of the bush and into one of the dozens of creeks which flow into the Purari River.
The debris was pieces of plastic from a container, usually kept in the boot of helicopters operated by Hevilift.
"It is obvious that it is part of the missing helicopter as it is consistent with the size and shape of the container we use for the kit and it has what we believe to be the outline of a 'H' in blue paint.
We paint the helicopter registration number, in this case HCY, on each container,'' Mr McBeath said.
"We now know that the area where we have been searching was the correct one and we can concentrate the ground search teams upstream of the location of where the debris was found, which is five miles (8km) from Bawata.
"Regrettably these broken pieces of container would most likely indicate that there has been a hard landing and the aircraft has broken up,'' he said.
"Finding these pieces means the search area has narrowed significantly. However we still have a large section of countryside to cover.''
- APNZ
By Rebecca Quilliam

Email

Rebecca