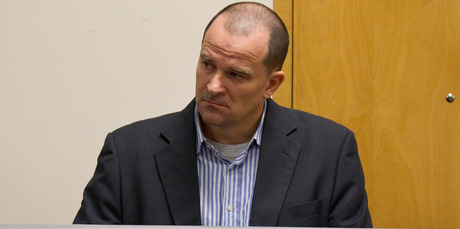 A man who had more than a kilogram of cocaine wrapped in condoms hidden in his stomach was risking his life, a drug investigator believes.
Mark Henderson was sentenced to seven and-a-half years in jail when he appeared at the Auckland District Court today.
The court heard how the US national - who lives in Panama - travelled to Peru in May and met a man who gave him the condoms containing cocaine.
The 41-year-old later told police that he had been offered 92 packages of the drugs but could swallow only 62.
He was paid US$16,000 to carry the drugs and boarded a flight to New Zealand on May 15. But while on board, Henderson excreted 25 of the packages.
Instead of flushing them, he put them in a paper bag and covered them with coffee grounds.
But Customs officers at the Auckland International Airport found Henderson's bag of drugs when he tried to clear the border. He told authorities that he had more drugs inside him and eventually excreted a total of 62 packages.
Customs manager of drug investigations Mark Day told APNZ that the 1.042kg of class-A drug would have been cut twice before it reached the street, giving the drug dealers more than 4kg, which would sell for about $300 a gram.
He said Henderson was risking his life because stomach enzymes and acids can eat through materials and cause packages to burst.
Mr Day referred to the case of Sorlinda Aristizabal-Vega who died in Auckland in September last year from a heart attack. The grandmother cleared customs, but a day later died at Auckland Hospital from a heart attack after one of the condoms of cocaine burst open in her stomach.
"If it is not done to the nth degree - just like the Colombian woman who died - that can be the result.''
Mr Day said drug mules are often paid part of their fee in their home country and promised the rest when they arrive at their destination. However, often they are given only a plane ticket and told to get out of the country.
In Henderson's case, the court heard that he had told a probation officer he had carried out the drug run because of financial problems.
His lawyer Graeme Newell said Henderson risked his health and was "only a mule''.
In addressing Henderson's early guilty plea, Crown prosecutor Justin Wall said the prisoner had little choice but to plead.
"He had been caught with a kilogram of cocaine.''
Judge Alison Sinclair said she accepted Henderson's role was as a courier, and not as the head of an international drug ring.
She took time off his sentence because he would have to serve his prison term in a foreign country away from his family.
Judge Sinclair also took off two-and-a-half years for Henderson's early guilty plea which was entered at his second appearance, just days after he was caught.
The Crown had also asked for a minimum non-parole period but Judge Alison Sinclair said it was not necessary.
"There is no risk to you reoffending and the community will be protected from you because on release you will be deported.''
- APNZ
By Edward Gay @edwardgay

Email

Edward