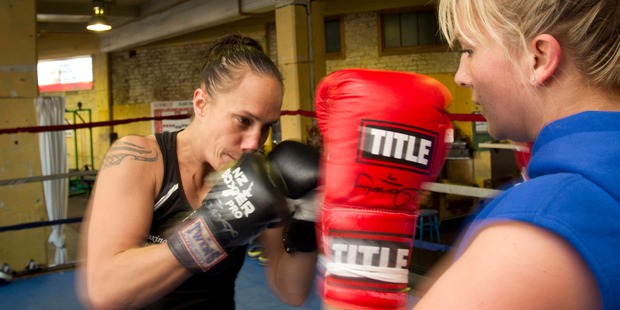 The 'battle of the babes' may have been a sideshow, but women boxers hold their own. Kathryn Powley reports.
"You get used to the pain," says New Zealand women's welterweight champion, pro-boxer Daniella "Diamond" Smith. The pain of being punched in the face, of aching muscles and a bruised body.
Smith was in Jaime Ridge's corner on Thursday when she held her boxing gloves aloft, victorious over "glamour model" Rosanna Arkle.
Ridge has learned everything she knows about fighting at Boxing Alley, the Auckland gym Smith co-owns. Boxing is Smith's life, but from the moment Thursday's "battle of the babes" was announced the fight was little more than a sideshow.
Arkle's bikini, claims of weight disparity, talk of who was or wasn't training seriously - it all stoked the flames in the publicity furnace heating ticket and pay-per-view sales for the Godfather of All Fight Nights.
It's good for the sport of boxing, says promoter Dean Lonergan. Nothing but a circus, fumed the sport's old guard.
For some who'd forked out for a seat on a $10,000 table at SkyCity, or paid $39.95 to watch on TV, Ridge vs Arkle may be the one and only female fight they'll see.
And it's a world apart from the heavy-hitting, gritty and serious world of women's boxing.
"It is a tough sport," says Smith. "It's physically, emotionally and psychologically demanding. If you want to succeed as a female boxer in this part of the world, you really have to be committed. You've got to battle with yourself. You've got to believe in yourself and face your fears."
SMITH'S FIRST proper fight, in 1998, was the highlight of her 39 years. "It was the most amazing experience of my life."
She fought top kickboxer Sophie Lee Andrews on the undercard for a Sean Sullivan fight promoted by Kevin Barry. It was at a packed Downtown Convention Centre in Auckland, October 1998. After three 2min rounds she was more exhausted than she'd ever been in any sport.
"That's when I decided I wanted to do it again and again and again. I have never ever been so scared, and then so excited and so proud of myself."
But not everybody thinks women entering the ring is a good idea. New Zealand Professional Boxing Association president Lance Revill is representative of the old guard. He knows he can't do anything about women being part of the sport he loves, but he sure as heck doesn't have to like it.
He is livid at the way Arkle's skimpy leopard-print bikini threatened to overshadow the serious business of Thursday's drawcard showdown between Shane Cameron and Monte Barrett.
"I don't like women boxing," he says grumpily. "But you can't stop people doing what they want to do. To me a woman is a woman. She carries a handbag around, and she's got long fingernails, she's got lipstick on and makeup, and men open the door for her. It doesn't look right women belting the s*** out of each other getting a blood nose and a cut eye."
Smith, who turned pro in 2004, responds to the likes of Revill, her former coach, with tact.
"They're entirely entitled to their opinions. It's totally cool. I did not start boxing to change the world, to make people think differently. I did it for me.
"A lot of the old-school male boxers I have a lot of respect for. This is their sport. I walked into their sport and it is different. I totally get that.
"I'm an old-school girl, I understand that and I respect that. But I'm still going to work to achieve my own goals."
Smith lives in St Lukes, has two children, and a degree in coaching and sport management from Unitec. She doesn't have a partner. She's an orthodox fighter, 1.73m tall, and can bench-press her own body weight, 65kg.
"I've never knocked anyone out," she says. "I've dropped people, but they've got up again."
As unpalatable as Revill finds it, he's right: women who belt each other in the ring for 10 2min rounds, as Smith does, have got to be tough. Smith is the first to admit she ticks that box.
She's so used to being punched now that she reckons it doesn't really hurt.
"You prepare yourself for the shot, you defend yourself against a shot. But there's certainly shots that do hurt and some women feel like they've got rocks for hands, they can definitely throw a punch."
She's only been knocked out once. What was that like?
"I couldn't tell you," she laughs and shrugs. "The only thing I thought of was I was worried for my children and thought I have to be okay for them."
MICHELLE PRESTON, 33, is the World Boxing Association's Asia Pacific champion in the super flyweight division.
She is also a two-time world champion at Thai boxing.
She's annoyed women boxers are marginalised by promoters who either put them at the beginning or middle of the card, never, ever the main event.
"Women's boxing is still viewed as a novelty," she complains.
That's despite training hard, in her case two to three hours a day, six days a week.
"It's not what I do, it's what I am."
She shrugs off flak aimed at women boxers. "When I get in the ring, it's like my second home. I'm comfortable there, it's what I'm used to. I couldn't imagine not doing it. I enjoy doing it, as much as it hurts the next day."
It takes discipline, technique, guts and determination, and anybody who has a problem with it needs to stop seeing female fighters as two women in conflict and instead try to see two athletes competing, strategising and showcasing their talent.
"Ladylike or not, it's a sport. If you look at it as a fight or a brawl, you're not appreciating the sport and science involved in it," she says.
Lightweight fighter Mallanie Codling, 32, has been boxing for 13 years. Two months ago she had her first professional fight, which she won. She's not letting old-fashioned attitudes towards women boxers slow her down.
She has a full-time corporate job yet manages to do cardio training six days a week, and boxes in the evening four times a week.
"To get in there and throw punches and be able to handle getting hit without losing control takes a certain type of person. I actually highly recommend it," she says.
SINCE HER first fight all those years ago, "Diamond Daniella" has practically eaten, slept and breathed boxing.
She'll never forget the day she met Sugar Ray Leonard, and asked: "What does it take to be a champion?"
He said: "Make boxing your life."
She laughs now, because she co-owns a boxing gym, trains and coaches boxers and she is a boxer.
"So I think I've made it my life."