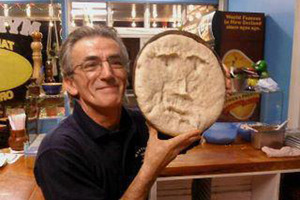 Police investigating the death of slain Paeroa pizza shop owner Jordan Voudouris believe a group of people travelling in a small white car with a "distinctive" black door may hold vital information on the case.
Voudouris, 55, was found dead outside his business on June 18.
Two men have been arrested over an attempted robbery of a Waihi service station and the aggravated robbery of a Katikati dairy on the same morning of his death and police are investigating whether the crimes are linked.
Detective Senior Sergeant Mike Whitehead said the occupants of a car travelling through Paeroa a few hours before Voudouris' body was discovered may have key information for investigators.
"We are seeking to identify a small white four-door car that had a distinctive black front passenger door.
"We believe the occupants of this car may be able to assist us in building up a picture of what was happening in the town overnight and during the early hours of the morning."
To give information on the case, call Paeroa police on 07 862 8744.
- HERALD ONLINE