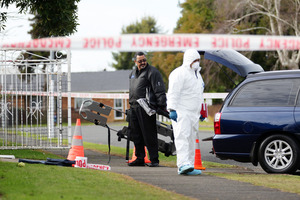 Four men have been arrested and charged after a man died while trying to stop a brawl outside his south Auckland home.
Richard Tairua, 59, died outside his Manurewa home early on Saturday.
It is believed he had gone outside to help stop a fight among youngsters on the street.
Police found him unconscious and attempts to revive him were unsuccessful.
Police said today they had arrested four Manurewa men aged between 22 and 26 and charged them with aggravated robbery.
One of the men had also been charged with assaulting Mr Tairua.
Police initially treated Mr Tairua's death as suspicious but a post-mortem examination showed he had died of natural causes.
On Sunday family and friends of the man known to many as a "gentle giant" gathered at the Church of Jesus Christ of Latter Day Saints in Manukau to remember him.
His wife Denise called him "my sweetheart", and said he was a man of action, not of words.
Mr Tairua had been married to his second wife for almost seven years, after meeting at church.
Close friend and neighbour Rae Bates told APNZ at the weekend that Mr Tairua was a family man and a dedicated member of South Auckland's Mormon community.
According to his Old Friends profile he had worked as a stevedore at Ports of Auckland since 1974.
His tangi will be held tomorrow.
- APNZ