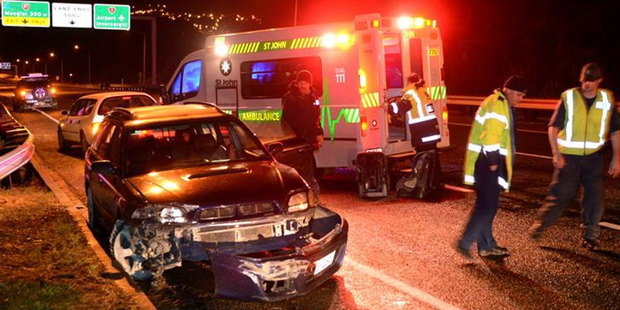 A three-year-old boy in the back seat of a stolen car swore at the driver as he allegedly sped through Dunedin last night.
Jake Bryant and his sleeping brother, 18-month-old Cooper, were unexpected kidnap victims when a man allegedly stole their father's car from the Mobil petrol station on Hillside Rd.
The accused thief allegedly took the Subaru for a 10km joyride at speeds up to 150km/h before he crashed on Dunedin's Southern Motorway about 11pm.
The father of Jake and Cooper, Ben Bryant, said they had been returning home from hospital after seeing his partner, who gave birth to another boy early yesterday morning.
Mr Bryant, 22, said he told his mate in the passenger seat to watch Jake and Cooper as he ran inside to buy a drink.
"I got in there (to the service station) to grab a drink and just realised (my friend) was walking through the door. I said 'What are you doing? You're supposed to be watching the kids'. And I look out the window and see my car driving off," Mr Bryant said.
An Invercargill man, 25, had his matter mentioned in Dunedin District Court today. He was initially charged with unlawfully taking a motor vehicle, drink driving, driving while disqualified, dangerous driving and providing police with false details.
The case was adjourned to mid-July.
Mr Bryant says he doesn't know how he will continue to visit his partner in hospital after the write-off of his $7000 car, which was uninsured.
He said the most important thing was the return of his sons, who were uninjured when the car crashed.
Mr Bryant said Jake had not said much about the drama, but told how he had sworn at the driver and that he remembered the crash.
He said it would take some time before he was back on good terms with his mate who was supposed to be watching the boys.
Senior Sergeant Tania Baron said a witness described the vehicle driving towards Mosgiel at speeds estimated between 140km/h and 150km/h.
The next time the witness saw the car, it had crashed.
"The witness put on their hazard lights and went to the vehicle to see if there was anyone else in it and discovered the two children in the back," Ms Baron said.
She said it was fortunate no one was injured or killed.
"... the road conditions at night have been treacherous. We're looking at black ice."
Police allege the accused ran from the scene of the crash before returning to the car and being picked up by officers.
They claim he gave a false name, and his true identity was established only after his fingerprints were taken this morning.
- APNZ